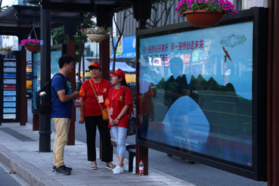 Volunteers provide service for Hangzhou G20 Summit. (Photo by Jiao Xiang, People's Daily)

By Zhang Jingwei Source:Global Times, People's Daily

When it comes to choosing a city to host an international forum in China, first-tier cities like Beijing and Shanghai always come to mind. For that reason, Hangzhou, a quasi-first-tier city in China, has received wide attention for hosting the upcoming Group of 20 (G20) summit.

Despite China's confidence, there are still some doubts in the West about the decision to choose Hangzhou as the host city. A recent Chinese news report by Voice of America Chinese cited Scott Kennedy, a US-based research fellow with the Center for Strategic and International Studies, who expressed concerns about Hangzhou hosting the summit. His  view is that Hangzhou's success lies in private firms' independence to make business decisions by getting loans and investments from the financial market, but that there is a divide in the practices between Hangzhou - located in one of China's most robust economic regions - and Beijing, which has control over the country's economy and enterprises. 

Such arguments stem from the belief that Beijing's political demands contradict local governments' economic interests. People with this mindset see this international summit as an opportunity for China to show Beijing's political desires but ignore the fact that the G20 summit strives to achieve the goal of balanced growth. 

As the old Chinese saying goes, in heaven, paradise, on earth, Suzhou and Hangzhou. This illustrates Hangzhou's long and lauded history as a vital part of China. To get a sense of the city's economic vitality, one only needs to consider that the city harbors the headquarters of Alibaba and other private firms like domestic beverage maker Hangzhou Wahaha Group. 

China has moved past the phase where it needs Beijing or Shanghai to show a Chinese image. Instead, varied cities in China are beginning to host global events. If we have to attribute the move away from Beijing or Shanghai to political implications, it might be suggested that this is a display of political confidence. 

Besides, since beginning with the sixth G20 summit in Cannes, France, the summit has been hosted in other tourist cities like Los Cabos, Mexico in 2012, Brisbane, Australia in 2014 and Antalya, Turkey in 2015. Hangzhou fits perfectly into this trend. 

Further, Hangzhou's economic vitality and innovative development should also be viewed as complementary to the G20 summit's theme: "Toward an Innovative, Invigorated, Interconnected and Inclusive World Economy." 

Following China's political opening-up and efforts in promoting an innovative economy, more Chinese cities have grown increasingly international, a fact that may have escaped the rest of the world. Now, following the G20 Hangzhou summit, there is a greater possibility that more second-tier and third-tier Chinese cities will host international conferences and global activities.

The author is a research fellow with the Charhar Institute, a non-governmental think tank.