By Sun Longfei, Liu Junguo, People's Daily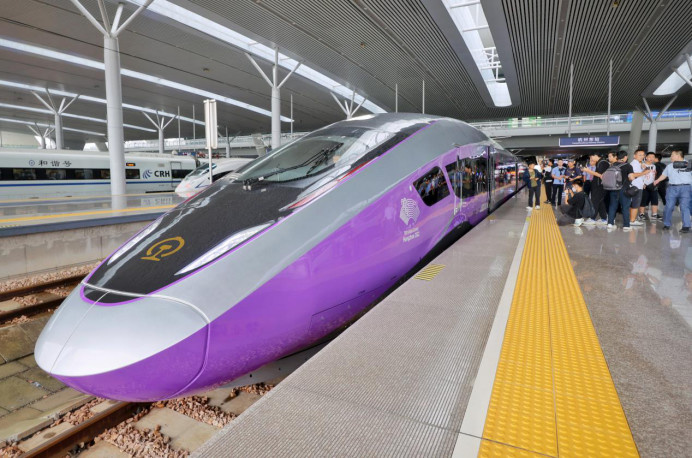 A Fuxing intelligent bullet train tailor-made for the 19th Asian Games is put into use, Sept. 16, 2023. (Photo by Zhou Wei/People's Daily Online)
The 19th Asian Games, which opened on Sept. 23 in Hangzhou, east China's Zhejiang province, has provided a stage for athletes from across Asia to surpass themselves, and has also opened a window showing China's technological innovation.

Various cutting-edge technologies such as 5G, internet of things, big data, and artificial intelligence have been widely used, and intelligent elements can be observed in the entire process and all aspects of the sports event, laying a solid foundation for holding a streamlined, safe, and splendid Asian Games.

In the central server room of the Huanglong Sports Center, a branch venue of the Games, a large screen clearly displayed the operation status of the entire venue. With the help of an intelligent management system, staff members collected and monitored real-time data through various indicators of the venue, thereby improving management efficiency.

To ensure optimal conditions for sailing competitions at the Ningbo Xiangshan Sailing Center, the local meteorological department has partnered with the Ningbo Artificial Intelligence Supercomputing Center. By utilizing AI capabilities, the time required for generating accurate weather forecasts has been reduced from 9 hours to just 4.5 hours.

The Hangzhou Olympic Sports Center Stadium, often referred to as "the Big Lotus," is the major venue of the Hangzhou Asian Games and will host track and field competitions. With the aid of digital technologies, the stadium has achieved multi-platform intelligent operations. An "online event" command platform, a digital intelligent meteorological platform, an intelligent medical emergency response system and others work in synergy to ensure smooth running of large-scale events, accurate weather forecasts for key areas, and rapid emergency medical response.

Shaoxing, a co-host city of the Hangzhou Asian Games, has outfitted its Asian Games venues with a smart telemedicine system to strengthen medical support. Leveraging 5G and augmented reality (AR) technologies, on-site doctors can initiate remote consultations with experts from other hospitals.

Ma Quan of the medical team at the China Textile City Sports Centre Gymnasium, the competition venue for volleyball during the Asian Games, told People's Daily that his 5G-enabled AR goggles can send what he sees to off-site specialists in real time so that they can work together to provide professional medical treatment and emergency services for injured athletes.

From Sept. 8 to 20, the torch relay for the Hangzhou Asian Games was held across 11 cities in Zhejiang province. In addition to over 2,000 physical torchbearers, more than 100 million people from 130 countries and regions participated in an online torch relay via a mini program on Alipay, a third-party mobile and online payment platform launched by Chinese e-commerce giant Alibaba. AI technologies like facial recognition and motion capture have been used by the mini program to generate unique 3D avatars for each "digital torchbearer," which highlighted the charm of technology.

On Sept. 13, the Hangzhou Asian Games' three core systems, namely Results Distribution System, Games Management System, and Games Support System, were launched at 54 competition venues, the main media center, the Asian Games Village, and the IT command center. They are now providing services to over 100,000 registered users from more than 40 countries and regions.

From the timing and scoring systems at the venues to the results systems, all information flows, gets processed and is finally presented in the form of data. Cloud computing is widely utilized to enable flexible allocation of computing resources, thus fully supporting the Asian Games' organizing and operations. This means the core systems of the Hangzhou Asian Games are 100 percent cloud-based, making it the first "Asian Games in the cloud."

Cloud computing not only provides support for the Games systems, but also interconnects with intelligent applications to serve eight major groups including athletes, spectators, staff members and more.

Take cloud broadcasting as an example. Leveraging the cross-regional capabilities of cloud networks, the broadcast signals of the Hangzhou Asian Games will emanate from Hangzhou and be delivered globally to Asian and worldwide audiences with millisecond latency.

In Huzhou, another co-host city of the Hangzhou Asian Games, autonomous buses equipped with LiDAR, millimeter wave radar, and visual cameras have been deployed to provide shuttle services, improving transportation efficiency around venues.

The Zhejiang branch of China Mobile, one of the three major telecommunication carriers in China, has covered a 4-kilometer scenic strip between the Hangzhou Olympic Sports Center and Asian Games Village with a 5G-Advanced network. With a speed about 10 times faster than 5G, the network will deliver a more immersive experience for watching naked-eye 3D sports broadcasts, movies and videos.

On a big screen of the cable intelligent monitoring center at the Asian Games Village, a 3D digital twin model of the Village's underground utility tunnel was displayed in real time. Since this year, the Zhejiang branch of State Grid has actively promoted the application of smart technologies, achieving holographic digitization of the Asian Games Village's power grid to enhance operational safety and contribute a new power support plan for the Asian Games.

With the latest digital and intelligent applications garnering worldwide attention, Hangzhou is making great efforts to deliver a wonderful Asian Games with Chinese characteristics and Asian styles.