By Ji Peijuan from People's Daily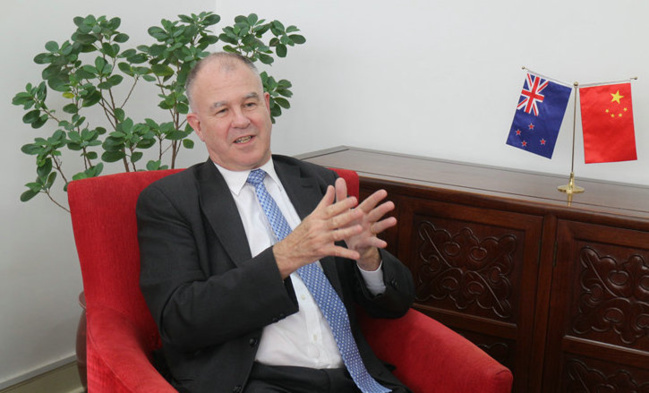 New Zealand expects to benefit from the commitment made by G20 members to sustain global economic growth, and profit from a facilitated trade and investment flow, New Zealand Ambassador to China John McKinnon told the People's Daily ahead of the upcoming G20 Hangzhou Summit.

By gathering the leaders of most important economies, the G20 will deliver the world their commitment to a steady global economic recovery, the ambassador said, adding that this agenda is important not only to G20 members, but to other nations including New Zealand.

McKinnon hailed the leadership demonstrated by China as host of this year's summit. "As the world's second largest economy and major trade partner of most G20 members, China now plays an important part in the global economy," he added.

After hosting the APEC Economic Leaders' Meeting two years ago, the country will soon host this year's G20 Summit and more international conferences in the coming years. These events will also boost China's influence in the global economy, McKinnon added.

He also praised the Hangzhou Summit's theme, "Toward an Innovative, Invigorated, Interconnected and Inclusive World Economy," saying that the four key words perfectly embody the demands of the world economy and his country.

He further explained that a developed nation like New Zealand needs "innovation" very much. In addition, his country focuses on innovation in agricultural technology, environment, health care and other fields, and is collaborating with China in most of these sectors.

In addition to "innovation," an open and "invigorated" economy is the precondition for sustainable growth, while "interconnection" is an indispensably component of the world economy, the ambassador added, saying New Zealand is a reliable trade partner of China and other parts of the world.

"Inclusiveness" represents global economic development, which means that economic growth should bring equal benefits to all partners, McKinnon said.

New Zealand attended the G20 Trade Ministers Meeting in July as an observer, during which the G20 strategy for global trade growth and global trade governance were discussed. These will also be included in the outcomes of the Hangzhou Summit.

McKinnon said his country expects to benefit from facilitated trade and investment flow.

New Zealand is the first developed country to recognize China's market economy status as well as the first to sign a free trade agreement with China, while China was New Zealand's second largest trading partner and largest export destination in 2015.

The two governments have agreed to increase bilateral trade to about 30 billion NZD by 2020. Citing booming bilateral trade in the dairy industry, he said he is confident the goal would be reached.
China is the largest export destination of New Zealand's dairy products, he said, adding that in the past, Chinese dairy companies like Yili and Mengniu have expanded their distribution in his country, while New Zealand exported more dairy products, kiwifruit, oysters, spiny lobsters, haliotis and clams to China.

New Zealand is now benefiting from the G20's commitment to "ensuring the steady growth of the world economy," he concluded at last.