By Wang Yinxin, People's Daily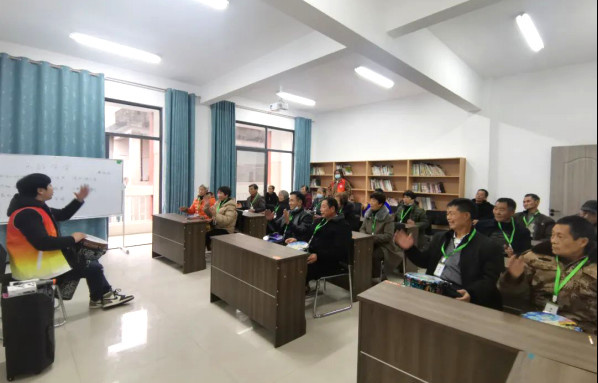 Seniors attend a hand drum class in Dongmen village, Songxi county, southeast China's Fujian province. (Photo from the media center of Songxi county)
A lectern, desks, a projector, a class schedule...It's just a usual classroom with usual classroom equipment. However, this classroom in Tianzhong village, Baizhong township, Minqing county of southeast China's Fujian province is not for primary or middle school students, but some 20 senior residents aged over 60.

Soon after villager Qian Yuanping wrote his name on an attendance sheet and then seated himself, a young lecturer started a class.

Qian, 73, never thought that he could one day get back to his school life and enjoy it.

This is attributed to the "Yinxing Leling Xuetang" program piloted in villages of Minqing county, which means "gingko seniors' classroom." The program, kicked off in June 2022, aims at better meeting seniors' cultural demands.

Over the past year, the program, gathering multiple resources and drawing social participation, has achieved remarkable progress. According to statistics, the county now has eight gingko seniors' classrooms that benefit 1,069 senior villagers.

"We have more than 600 senior residents in our village. As they grow older, they feel it's important to learn new things. It's a common aspiration of many of them to keep learning," said Qian Yuekeng, Party head of Tianzhong village.

Qian Yuanping was quite excited when he learned that a gingko seniors' classroom was about to be built. However, on second thought, he feared that he might not be able to keep up with the classes because he's aged.

In July last year, Liu Dandan with a social service center of Minqing county visited Qian Yuanping and recorded his age, degree, health condition, family condition, hobbies and demand for courses.

This door-to-door visit was launched in all villages where the gingko seniors' classroom program was piloted, with an aim to plan the courses for seniors in a science-based manner.

"Younger senior residents preferred courses involving handicraft, while the older ones focused more on health," Liu said.

Based on the survey, a detailed plan was made, which involved nearly 100 courses under three major categories, namely the public, professional and folks custom curriculums. It divided senior villagers into different classes and batches based on their age, interests, and educational backgrounds.

In each classroom there is a class schedule that specifies the time and lecturer of each class as well as how to register for it. The soft copy of the class schedule has been sent to the mobile phones of all attendees.


According to Liu, some of the employees of the social service center would teach classes, and staff members from jurisdiction departments, police stations, environmental protection offices, and governments at county, township and village levels are also invited to give lectures under the public curriculum.

Classes under the professional curriculum are given by those from education, culture and tourism, and health departments, elderly sports associations, as well as teachers from universities for the aged, kindergartens and primary and middle schools, Liu said, adding that the social service center is working to discover more skilled and talented local teachers.

So far, Minqing county has trained and discovered 15 local teachers of Chinese calligraphy, singing and musical instruments. Classes are given not only in classrooms, but also on squares and in the fields.
Huang Meiyu, 65, was a little shy when having the first a few classes. However, she soon became very motivated.

According to the woman, she showed her granddaughter a paper crane she folded on a class, and her granddaughter was always after her to learn how to fold one and cried up her skills.

"I'm always eager to have the classes," Huang said, adding that sometimes she would directly go to the classes from her farm work to not to be late.

Qian Yuekeng knows well the changes that have happened to senior residents in the village. "They would always sit idly in front of their houses after eating. They wanted to learn singing and dancing, but didn't know who they should go to. Today, they can have classes each week, where they both enjoy themselves and learn something. What's the most important is that the image of the whole village has been improved," Qian said.

Next, Minqing county would build more gingko seniors' classrooms and expand the areas where home-based elderly care services are available, so as to enhance the supply of elderly education, meet senior residents' diverse demands and constantly improve the happiness index of local seniors in the county, said Huang Geng, head of the civil affairs bureau of Minqing county.