By Li Xiao from People's Daily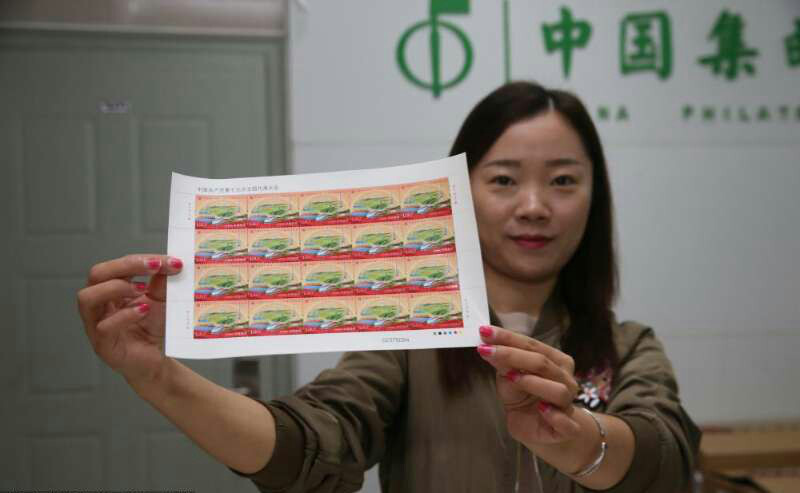 A postal staff shows the commemorative stamps for the 19th CPC National Congress on Oct. 17 in Leshan, southwest China's Sichuan Province. (Photo from People's Daily Online)
A set of commemorative stamps for 19th National Congress of the Communist Party of China (CPC) were issued in Beijing on Oct. 18.

The set includes two stamps that read "remaining true to our original aspiration" and "moving on", respectively, and a stamp sheetlet that reads "building dreams".

The stamps are designed by Chinese designer Ma Lihang and printed by Postage Stamp Printing Bureau of China Post Group. The three stamps bear a total face value of 8.4 yuan ($1.3).

The stamp that reads "remaining true to our original aspiration" reviews the Party's history and purpose. It displays historical sites about the Party, including the Monument to the People's Heroes, the Baota Hill in Yan'an, Xinhua Gate, and the "Red Boat" on which the first Party Congress was held.

The stamp that reads "moving on" displays images of China's bullet train "Fuxing", China's self-developed C919 jet, and the main venue of the Belt and Road Forum for International Cooperation 2017. They reveal China's remarkable achievements in politics, economy, science and technology, and eco-civilization construction after the 18th CPC National Congress.

The stamp sheetlet is characterized by images of the Tiananmen Square, an ornamental column and lyrics of China's national anthem. These elements reflect that the CPC is leading people of all ethnic groups in the country to realize the "Two Centenary Goals" and fulfill the Chinese Dream of national rejuvenation with unremitting efforts.