By Li Yingqi from People's Daily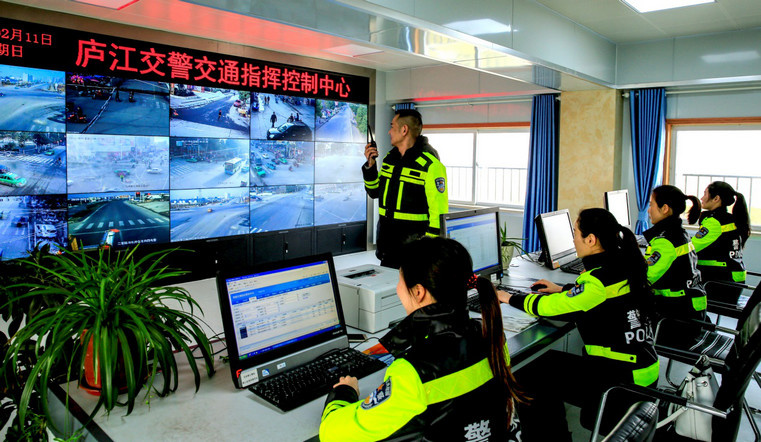 Traffic police of Lujiang county, Anhui province are monitoring and managing traffic by applying new technologies, February 11, 2018. (Photo by Zuo Xuechang from People's Daily Online)
China has come to the end of its travel rush for the 2018 Spring Festival, the most important occasion for family reunions. New technologies are doing their part to make the annual rush less onerous for hundreds of millions of passengers.

Over 250 million train trips were made in the past 27 days since the travel rush of 2018 Spring Festival started, up 14.92 million, or 6.3 percent, from last year, according to the latest data from the China Railway Corporation. The eight days between Feb. 20 and Feb. 27 witnessed more than 10 million daily journeys.

During the Spring Festival, railway authorities added train services and launched more measures for the convenience of passengers, in a bid to cope with the rising demand for transportation.

They also provided more comfortable rail tours by introducing new technologies and services like big data-based monitoring, mobile payments and more accurate allocation and connection of trains.

In south China's Guangdong Province, big data analytics and some other new technologies were adopted to monitor the businesses and vehicles with weak safety management, and the findings will be sent to the traffic departments for study.

Passengers in east China's Jiangsu Province no longer needed to fall in line for a paper ticket, but booked tickets via mobile apps, thanks to the online services launched by local transport departments.

Major stations across the country have applied facial recognition for ticket checks, and the gates allow passengers to pass through automatically if their faces are recognized as the same as photos on their ID cards.