By Guo Jiping, People's Daily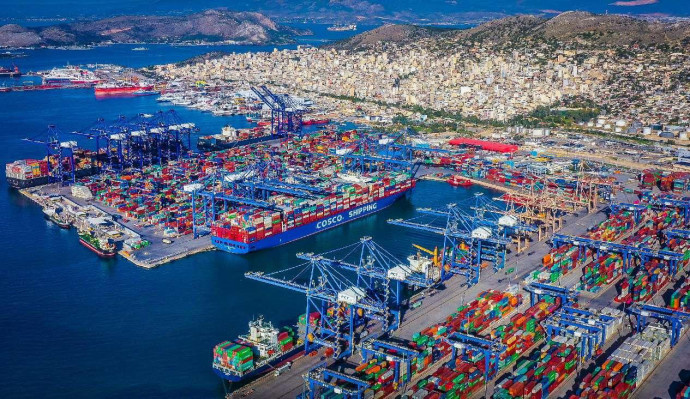 Photo shows a distant view of the container terminal of the Piraeus Port in Greece. (Photo by Zhang Zhiming)
China will host the third Belt and Road Forum for International Cooperation (BRF) in Beijing from Oct. 17 to 18. It is reported that representatives from over 140 countries and more than 30 international organizations have confirmed their attendance at the event.

Despite the turbulent international situation, China has rolled out the red carpet to welcome guests from all over the world, which demonstrates the country's unswerving commitment to promoting world peace and development.

Over the past decade since Chinese President Xi Jinping proposed the Belt and Road Initiative (BRI), stories of win-win cooperation have continued to unfold along this public road of shared opportunities and common development.

So far, over 150 countries and more than 30 international organizations have signed more than 200 BRI cooperation agreements with China; the Asian Infrastructure Investment Bank has grown from 57 founding members to 109 members, which account for 81 percent of the world's population and 65 percent of global GDP; and more than 80 routes have been launched for the China-Europe freight trains, reaching 217 cities in 25 European countries.

Experience over the past 10 years has fully proven that the BRI is an open and inclusive platform and a global public good jointly built by all partners.

International analysts have eagerly sought to understand what allowed China to conceive the grand initiative and accomplish significant achievements in furthering its development.

The BRI is the result of China's reflections on the future and destiny of humanity. In March 2013, in the face of the profound questions of "What is wrong with the world?" and "What should we do about it?", which concern the world, history and the times, Xi creatively proposed the concept of building a global community with a shared future for mankind.

By launching the BRI, China aims to put this concept into practice and build a practical platform and open up paths for creating an open, inclusive, clean and beautiful world that enjoys lasting peace, universal security and common prosperity.

The BRI stemmed from China's unshakeable pursuit of world peace and development. China unswervingly follows the path of peaceful development. It safeguards world peace to ensure its own growth, and contributes to world peace through its own development.

Taking the path of peaceful development is China's response to international concerns about its development direction, and also a reflection of the confidence and consciousness of the Chinese people in achieving their development goals.

By proposing the BRI, China strives not only to pursue its own development and enhance its capacity to safeguard world peace, but also to benefit the world by strengthening the forces for upholding world peace and development.

In pursuing Belt and Road cooperation, China will not resort to the outdated geopolitical maneuvering, but will create a new model of win-win cooperation. It will not form "a small group detrimental to stability", but will try to create "a big family of harmonious coexistence".

The success of the BRI represents the success of China's development path and experience. China has achieved the two miracles of rapid economic growth and long-term social stability, resolved its problem of absolute poverty once for all, and realized its first centenary goal of building a moderately prosperous society in all respects. The fundamental reason for these achievements is that China has found a successful development path that is suited to its national conditions and people's aspirations and supported by its people.

With nine percent of the world's arable land and six percent of the freshwater resources, China feeds nearly one-fifth of the world's population. In 2022, China's GDP expanded to 121 trillion yuan ($16.56 trillion), while its share of the global economy rose to 18 percent, demonstrating remarkable development achievements.

The success of China's development path has strengthened other developing countries' determination to pursue paths based on their own national realities, and China's great achievements in development have boosted other developing countries' confidence in realizing national prosperity, national rejuvenation and improving people's wellbeing. The BRI has provided valuable opportunities for other developing countries to draw on China's development experience.

The success of the BRI is the success of China's commitment to open development. Only when a country is strong enough can it have the confidence to open its doors to the world, and opening up in turn enhances its prosperity. The BRI is a major initiative China has launched to expand opening up. It is not a solo endeavor by China, but a collaborative effort involving all stakeholders.

In the face of a rising tide of de-globalization, China remains firmly committed to high-level opening up, creating an even brighter future for cooperation under the BRI.

The BRI has continuously broken deadlocks, removed bottlenecks and spurred innovations, showing the world that only by building an open world economy can countries improve the wellbeing of their peoples.

As former Spanish Prime Minister Jose Luis Rodriguez Zapatero pointed out, the BRI upholds an open and inclusive vision for development that transcends borders and zero-sum game mindset, which is precisely the development philosophy the world urgently needs today.