By Huang Fahong from People's Daily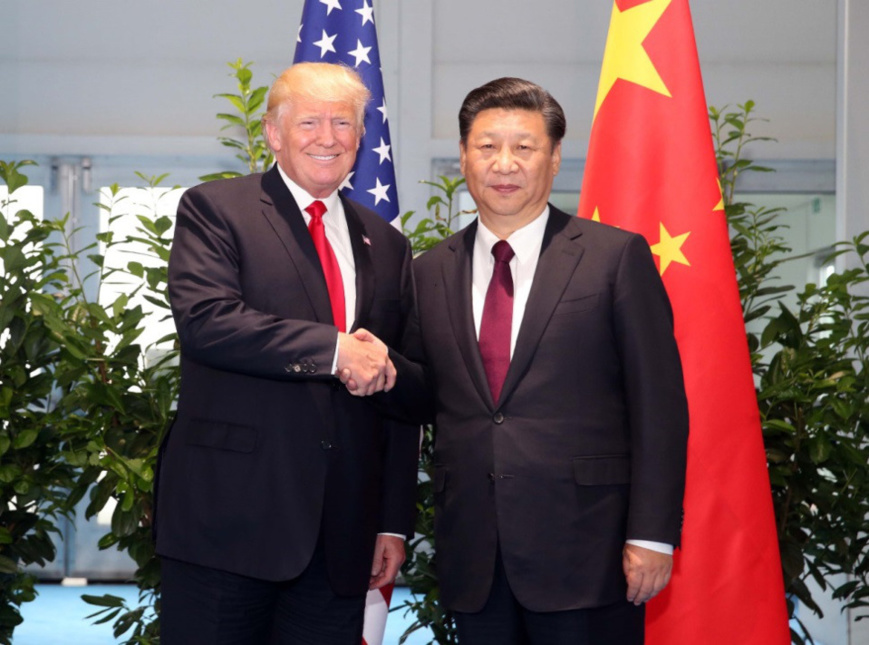 Chinese President Xi Jinping (R) meets with his US counterpart Donald Trump on the sidelines of a Group of 20 (G20) summit, in Hamburg, Germany, July 8, 2017. The two heads of state exchanged in-depth views on bilateral ties and global hot-spot issues. (Xinhua/Yao Dawei)
Head-of-state diplomacy conducted by Chinese President Xi Jinping has deepened the world's understanding of China, enhanced China's profile and influence, and facilitated the solution to many global problems, China's Foreign Minister Wang Yi said on Mar. 8, 2018.

Head-of-state diplomacy as the highest form of state-to-state interaction plays a pivotal role and has irreplaceable strategic value, Wang told the press conference held on the sidelines of the first session of the 13th National People's Congress.

"Since 2012, President Xi has been the chief architect of China's distinctive major-country diplomacy," Wang said, adding that he was personally involved in the planning and conduct of head-of-state diplomacy, which by all accounts has been brilliant.

To date, Xi has visited 57 countries in different parts of the world and received more than 110 foreign heads of state, the minister illustrated.

The head-of-state diplomacy guarantees the stable strategic relations between China and the US, which has been proved by Xi's meetings with his US counterparts at Annenberg Estate, the White House, Mar-a-Lago resort of the US and Yingtai, West Lake and the Palace Museum of China.

Twenty-plus meetings between Chinese and Russian heads of state have also led to deeper strategic cooperation between the two countries. In addition, China has spared no effort in building a community of shared future in neighboring areas.

With these efforts, China has provided the world with a new approach to state-to-state relations, one that features dialogue rather than confrontation, and seeks partnership rather than alliance.

"These important visits and meetings go a long way towards deepening the world's understanding of China, enhancing China's profile and influence, and facilitating the solution to many global problems," Wang concluded.

He added that President Xi's leadership and charisma has earned him – and his country – many good friends among foreign leaders who represent a diverse range of cultures and social systems.

In the year ahead, Xi will host four diplomatic events, the minister told the press, citing the four events as the Boao Forum for Asia Annual Conference, the Shanghai Cooperation Organization Summit, the Forum on China-Africa Cooperation Summit, and the first China International Import Expo.

Apart from the four home-field diplomatic events, Xi will also attend the BRICS Summit in South Africa, the Asia-Pacific Economic Cooperation (APEC) Economic Leaders' Meeting in Papua New Guinea and the G20 Summit in Argentina, he added.

"President Xi's personal diplomacy will make a positive and responsible contribution to the well-being of his people, the interests of China and the welfare of the world," Wang pointed out, concluding that it will write a whole new chapter of major-country diplomacy with Chinese characteristics in the new era.