Source : People's Daily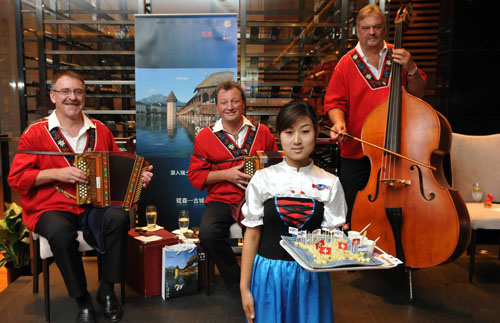 Chinese President Xi Jinping will pay a State visit to Switzerland and attend the World Economic Forum on 17th January.

Switzerland has always taken the lead in developing bilateral ties with China, more so than many other European or Western countries. Xi's visit to the country will further boost bilateral trade and economic ties, according to Cui Hongjian, director of the Department of European Studies under the China Institute of International Studies.

The visit is expected to upgrade the free trade agreement (FTA) between China and Switzerland and push forward trade and economic cooperation, Cui noted. Having officially come into effect in 2014, the agreement is the first FTA pact inked between China and a country in Europe. It has been a locomotive to drive pragmatic cooperation in various fields between the two countries.

"China has a huge comprehensive economy with a wide range of sectors, " said Cui, adding that the Swiss economy is small but strong, with several industries topping the world in terms of technologies and markets. The two countries are highly complementary in trade. As a result, the implementation of the FTA will further promote bilateral cooperation and benefit the people of both nations, Cui said.

Given a sluggish world economy, Cui suggested that the FTA be expanded to more fields. China and Switzerland can seek more in-depth cooperation in Switzerland's specialties such as banking, insurance, futures and other financial sectors. China can also expand the renminbi business in Europe with the help of the agreement.

"The smooth upgrade of the FTA will not only invigorate the trade growth of the two countries, but also set a role model for other countries in Europe. The agreement will further expand China's trade and investment in other European countries and accelerate the trade arrangements with them and even the EU at large," Cui said.

Cooperation between the two will drive scientific and technological innovation in China, Cui said. Switzerland is hailed as a nation of innovation as it has topped the global innovation index issued by the World Intellectual Property Organization for six consecutive years. Similarly, China has set innovation as a national strategy. The two countries signed a joint statement to establish an innovation strategic partnership on April 8, 2016.

Switzerland's spirit of innovation is worth learning from, Cui said. For instance, it has perfected certain industries such as the watch industry due to the scarcity of resources. Likewise, craftsmanship has been emphasized in Chinese society in recent years, which corresponds well with the diligent attitude of Swiss watchmakers.