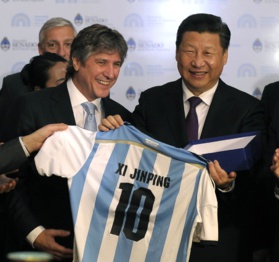 By Chen Heying Source: People's Daily and Global Times

Chinese President Xi Jinping's forthcoming visit to Latin America will restructure bilateral trade and promote a free trade agreement at a time when both sides are undergoing pressure from an economic downturn, experts said.

Xi will visit Ecuador, Peru and Chile from November 17 to 23 and attend the 24th Asia-Pacific Economic Cooperation (APEC) Economic Leaders' Meeting on November 19 and 20 in Lima, Peru. It will be Xi's third visit to the continent since he took office in March 2013.

As the trade volume between China and Latin America has continued to decrease, it is necessary to change the trade structure, Xu Shicheng, a research fellow in Latin American studies at the Chinese Academy of Social Sciences, told the Global Times.

"The second white paper on developing China-Latin America ties is likely to be issued during Xi's trip after the first was released in 2008 now that the economic situation has changed greatly," a Beijing-based expert close to the foreign ministry, who asked for anonymity, told the Global Times.

The Chinese economy has changed to a "new normal" of maintaining medium-to-high speed of growth. Annual GDP growth for the 2016-2020 period must maintain at a level of at least 6.5 percent, Xi was quoted by the Xinhua News Agency as saying in November 2015.

The Economic Commission for Latin America and the Caribbean set its economic growth projections for the region for 2016 at an average contraction of -0.9 percent.

Xu said that some Latin American nations that need to adjust their economic structures and enhance industrialization are expected to grab the opportunity to cooperate with China.

One focus is production capacity cooperation at a time when China is suffering from overcapacity, Yang Zhimin, a researcher with the Institute of Latin American Studies at the Chinese Academy of Social Sciences, told the Global Times.

Echoing Yang, Xu said bilateral trade also needs to be restructured, to shift from China buying oil and minerals to trade in high added-value mineral products and information technology, considering the decreasing trade volume.

Trade volume between China and Latin America was $99.2 billion between January and June, a plunge of 11.3 percent compared with the same period last year, Xinhua reported in August. It is another plunge after a 10.2 percent year-on-year decrease in 2015 from 2014.

"China wants to import more high added-value products, instead of just primary commodities," Xu said.

Peruvian President Pedro Pablo Kuczynski said his government not only welcomes Chinese investment in mining, but in ore smelting and mineral products, news site china.com.cn reported.

Facing uncertainties

Xu said free trade agreements China signed respectively with Peru and Chile are expected to be upgraded during Xi's visit this time, to expand trade and investment.

Peru and Chile are both signatories to the US-led Trans-Pacific Partnership (TPP), however, the fate of this trade bloc faces uncertainties in the wake of the US presidential election. Yang pointed out that Peru and Chile are also members of the Pacific Alliance, the most active trade bloc in South America, and that they will be willing to promote a free trade agreement signed by Pacific-rim countries.

Against increasing anti-globalization sentiment, it is time to retable discussions on an Asia-Pacific Free Trade Area (FTA), Teng Jianqun, director of the Department for American Studies at the China Institute of International Studies, told the Global Times.

"It is particularly significant to promote an Asia-Pacific FTA as US president-elect Donald Trump has vowed to scrap the US-led TPP that excludes China and Russia," Xu said.

At the 2014 APEC meeting held in Beijing, APEC member economies reached consensus on starting the Asia-Pacific FTA, Xinhua reported.

"[The TPP] can be replaced with a similar deal, but without the US," Kuczynski, a fervent free-trade supporter told Russia Today on Friday. "I think it'd be best to have an Asia-Pacific deal that includes China, and includes Russia as well ... it'd have to be a new negotiation."