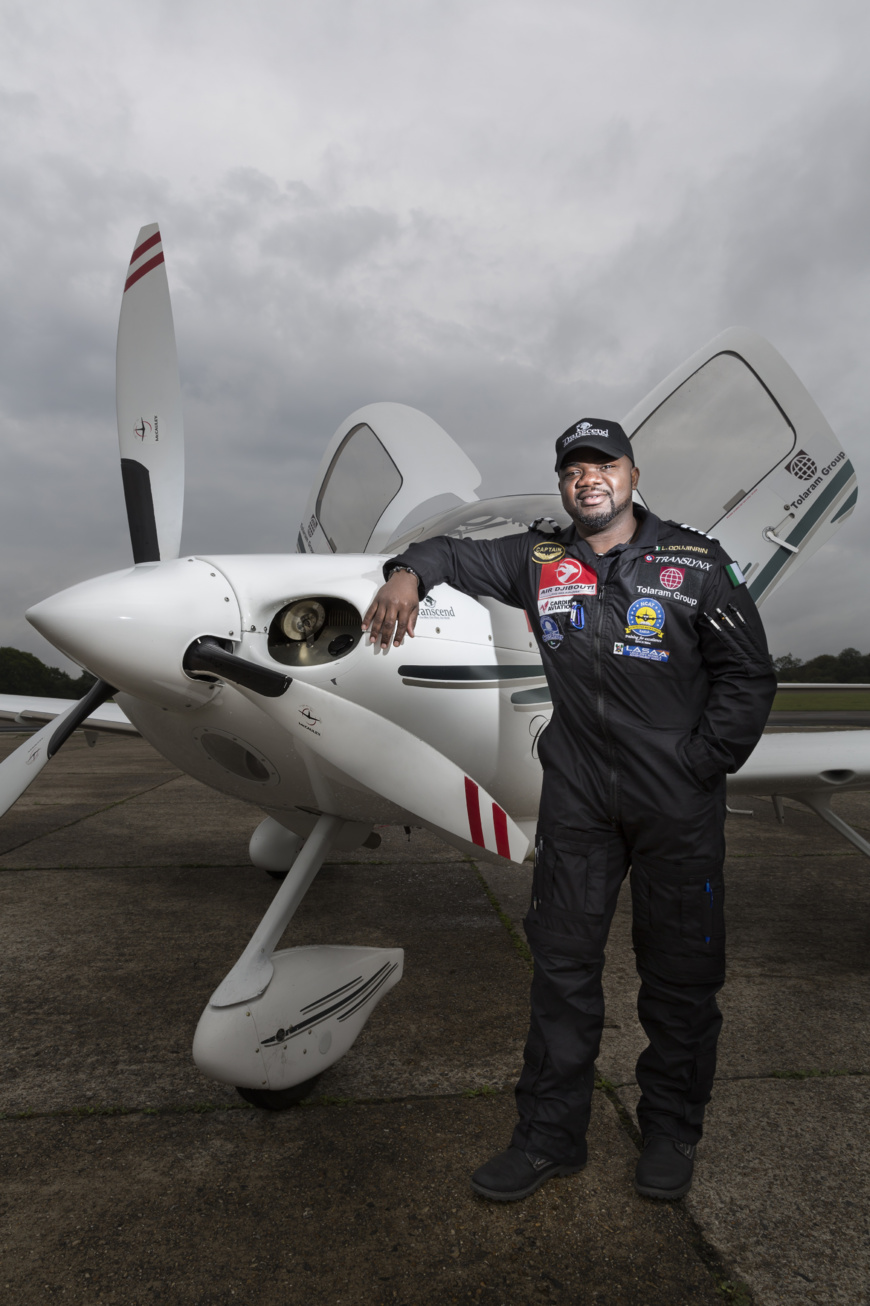 Washington DC, 29 March 2017: A pilot for Air Djibouti has become the first African pilot in history to fly solo around the world.
 
Ademilola "Lola" Odujinrin completed the final leg of his historic journey this afternoon, landing safely at Washington Dulles International Airport.
                                                                                                                                
The pilot has completed the entire circumnavigation in a Cirrus SR22, stopping in more than 15 countries on five continents, returning to Washington DC, where his journey began back in September.
 
The flight is part of Project Transcend, a foundation which aims to inspire young people to achieve their goals regardless of their personal circumstances.
 
Lola says: "Ever since I was a child, I dreamed of one day flying around the world. We have a responsibility to lead by example and follow our dreams. I want African children to think: 'I can do this too!'."
 
I would like to extend my sincere gratitude to Air Djibouti's Chairman, Aboubaker Omar Hadi, and Cardiff Aviation's Chairman, Bruce Dickinson, who have supported me throughout this journey. Without them this would not have been possible."
 
Both formed part of a high-level delegation to welcome the historic aviator on the tarmac at Dulles Airport, including: His Excellency Mr. Mohamed Siad Doualeh', Ambassador of Djibouti to the United States, Mr. Dawit Michael Gebre-ab, Senior Director of Strategic Planning for Djibouti Ports & Free Zones Authority (DPFZA), and Mr. Moussa Houssein and COO of Air Djibouti. Other distinguished guests included the CEO Africa World Press, which plans to publish a book on the journey.
 
Lola has logged over 4,000 hours as a commercial Boeing 737 pilot, since earning his pilot licence six years ago.
 
Aboubaker Omar Hadi, Chairman of Air Djibouti, says: "By supporting initiatives like Lola's flight around the world, Air Djibouti hopes to inspire a new generation of pilots in Africa and help to pave the way for the aviation industry to thrive in the region.
                                                                                                                                    
"The benefits will be felt within the region, as this will encourage more intra-African trade and sustainable economic development. With the commencement of the Single African Air Transport Market (SAATM) set for June 2017, air travel in the continent is positioned to grow rapidly and become a key contributor to the region's economic and social development."
 
Globally, the aviation industry represents a massive opportunity for African economies to play a larger role/ It is estimated that 2017 alone will see approximately 4 billion airline passengers worldwide as well as over 50 million tonnes of cargo being transported by air.