By Huan Xiang from People's Daily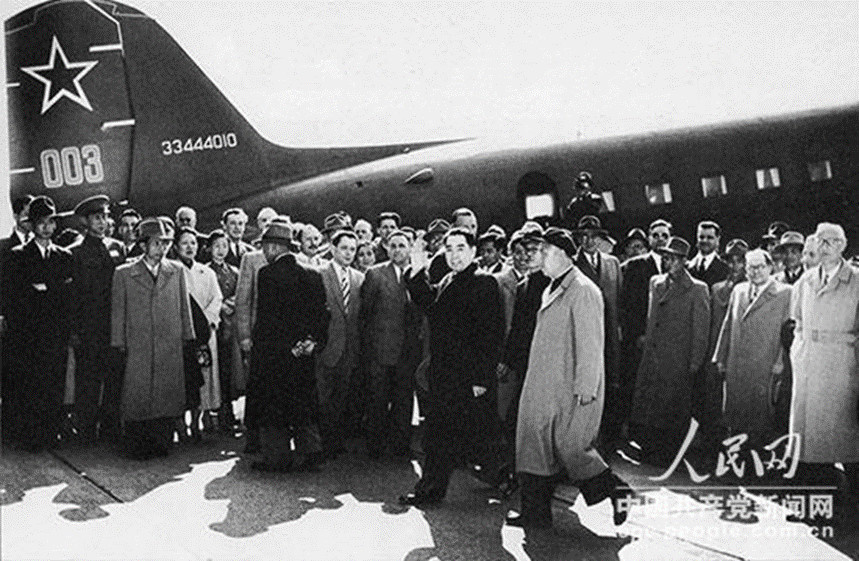 Zhou Enlai arrives in Geneva on April 24, 1954 to attend the Geneva Conference held from April to July as head of Chinese delegation. (Photo from People's Daily Online)
Chinese President Xi Jinping praised Comrade Zhou Enlai as an outstanding example of self-discipline and integrity, at a symposium to commemorate the 120th birthday of the late Premier in Beijing on March 1, urging all Party members to learn from him.

While delivering a speech at the symposium, Chinese President Xi, also general secretary of the Communist Party of China (CPC) Central Committee and chairman of the Central Military Commission, highlighted the "Ten family rules" that Zhou required his relatives to strictly abide by.

Zhou never extended any privileges to himself or his family, Xi stressed, elaborating that Zhou encouraged his relatives to restrain from seeking personal gains with ties of kinship, explore their own careers independently in a confident fashion, and keep a low profile on all occasions.

The Party's work style reflects its image, Xi stressed, calling on the whole Party to learn from Zhou by keeping in mind that their power is entrusted by the Party and the people and should be exercised in the interest of the people.

Xi asked every Party member to be "a dignified and honest communist" who resists corruption and privilege, consciously accepts oversight of the people, and reveres the people, the Party, and the law.

Zhou was against factionalism, small cliques, decentralism, sectarianism and departmentalism, Xi said, adding that never a supporter of small cliques, Zhou ordered Party members and officials to adopt strict standards regarding political integrity under any circumstance.

The President also referred the late Premier as an outstanding role model who remained true to the original aspiration and kept the faith, as well as a loyal Party member who championed the big picture and served the public with great dedication.

Zhou is also an outstanding example as he always sought self-improvement, kept fighting, dared to shoulder responsibility and fully dedicated himself to missions, Xi said.

Since the 18th National Congress of the CPC, the Party's Central Committee, with Comrade Xi Jinping at the core, has devoted great energy in construction of the Party's conduct and honest, clean government, as well as fight against corruption.

Corruption cases, including those of Zhou Yongkang, Bo Xilai, Guo Boxiong, Xu Caihou and Ling Jihua were unfolded, and the corrupt officials were punished in accordance with laws, ensuring that special privileges are eliminated.

China's anti-corruption campaign is always on track, a People's Daily commentary said.