By Huang Fahong from People's Daily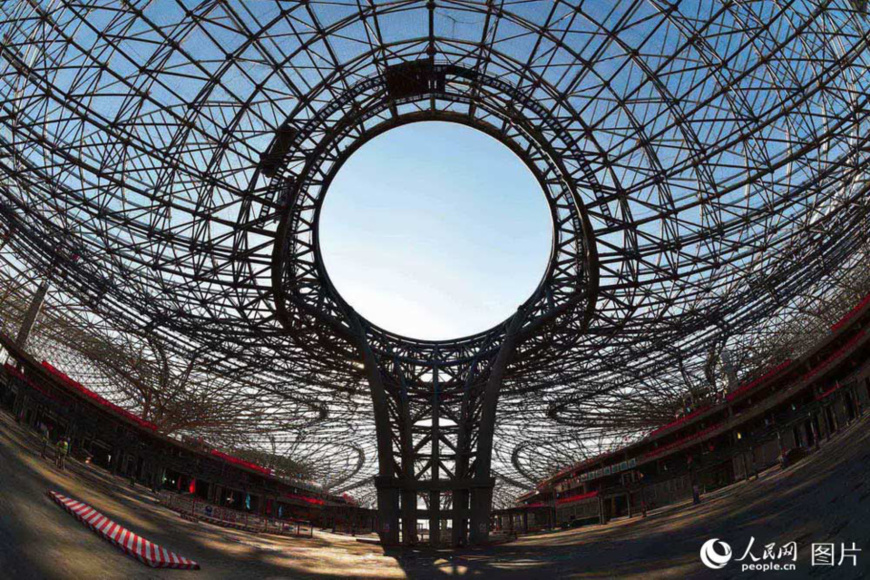 The terminal of the new airport is being constructed. (Photo by Lei Sheng from People's Daily)
Another super engineering project, Beijing's new international airport, is being constructed just 46 kilometers south of Beijing's Tiananmen Square. The airport will be home to the largest terminal in the world once it opens in 2019.

The major concrete structure of the terminal was completed on January 19, 2017, and the functional parts on December 29 of the same year. It is amazing to complete such a big workload in such a short time.

Located at the southernmost end of Beijing's central axle, the new international airport forms a straight line on the map together with Tiananmen, the Bell Tower and Drum Tower, and Beijing National Stadium.

The roof at the core area of the main terminal, also the largest in the world, covers an area of 180,000 square meters, an equivalent area of 25 soccer fields. The curvy-shaped roof looks like a flying phoenix.

The radial design of the terminal will to the largest extent ensure the efficiency and convenience of passengers, as the longest walk after security check is only 600 meters, which could be covered in 8 minutes.

The new airport will also facilitate citizens in surrounding cities. Sitting in the center of the Beijing-Tianjin-Xiongan New Area triangle, it is only 80 kilometers away from downtown Tianjin and 60 kilometers away from Xiongan.

Chinese President Xi Jinping, during his inspection of the airport on February 23, 2017, said the new airport will become a new landmark for the capital, as well as a new engine for the country's development,so that strict construction management must be assured on every single project.

Knowing that many new technologies have been applied to the construction work to ensure accuracy, Xi encouraged the workers to carry on in their work and forge high-quality projects.

The airport, which will start test operation in October 2019, is expected to leverage vast growth of China's aviation market. It is designed to handle up 45 million passengers at an initial stage, 72 million passengers in 2025, and over 100 million after later expansions on a yearly basis.