By Sheng Yulei from People's Daily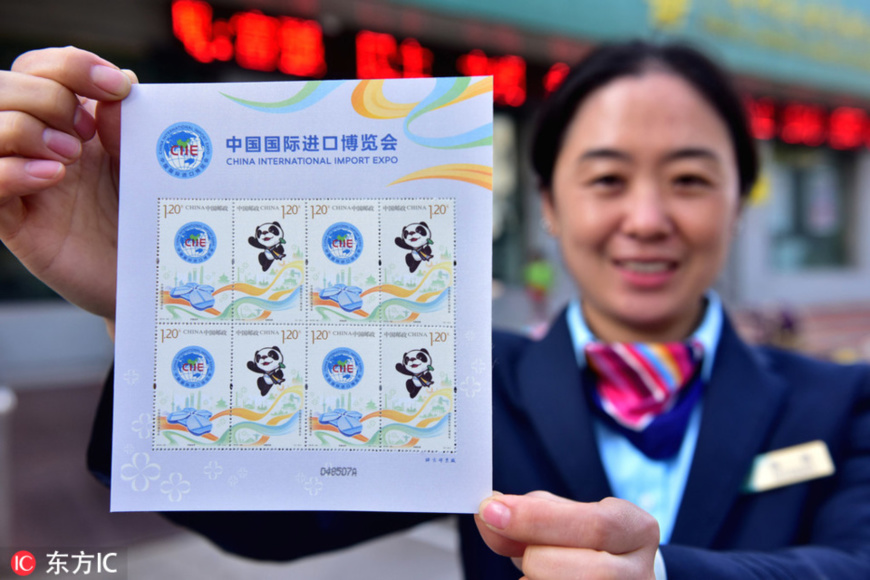 China Post and the China International Import Expo (CIIE) Bureau released stamps to commemorate the CIIE, Nov. 5, 2018. Photo/IC
The first China International Import Expo (CIIE) is an extraordinary platform for China to pursue a shared future with the world, which can be sensed at venue of the event.

It takes over 20,000 steps to walk around the exhibition areas where display a wide range of products and services, including high-end equipment and consumer goods.

Covering a total area of 300,000 square meters, the exhibition is attended by 172 countries, regions and international organizations, as well as more than 3,600 enterprises. In addition, the event is also joined by more than 400,000 buyers from home and abroad.

The signing room, which locates on the second floor of the venue, was always packed with buyers, because of which the staff members had to work overtime.

The CIIE is a prosperous business and trade platform. A foreign scholar pointed out that it is hard for enterprises to compete with their international counterparts and even the domestic ones, if they do not enter the Chinese market and follow on the latest trends. Only by entering China can they be called global players. Considering this, some firms have already confirmed their participation in the 2019 CIIE and booked their booths.

The CIIE is an open platform for communication. The booth in front of the CIIE news center displays books in Chinese, English, Arabic, Russian and Japanese languages, almost all of which are about opening up.

A few people by a booth of medical equipment were seen communicating in three different languages with body language as assistance. Business may be one reason for which they came to the expo, but the experience, communication, mutual learning and mutual inspiration at the event will give them more sense of gain.

The expo is also a platform that is beneficial to all. Even a journalist inquired about the performance of a vehicle at the booth of BMW. It indicated that every consumer would possibly be attracted by the products that they like and then nurture a desire for consumption.

On Oct. 11, BMW and China's Brilliance Automotive signed an agreement on the establishment of a new factory. The German automaker became the first beneficiary after China relaxed the joint-venture equity limit for foreign automobile enterprises.

A variety of goods were displayed at the CIIE, including vehicles, agricultural products, and medical and healthcare facilities. They reflect the ever-growing needs of the Chinese consumers for a better life.

The CIIE has also transformed from a 6-day event into a constant online transaction platform. To broaden Chinese consumers' access to the world's fine products reflects China's sincerity to open up and embrace the world, as well as the consumption upgrading of the Chinese people and their pursuit of a better life.