By Li Zheng from People's Daily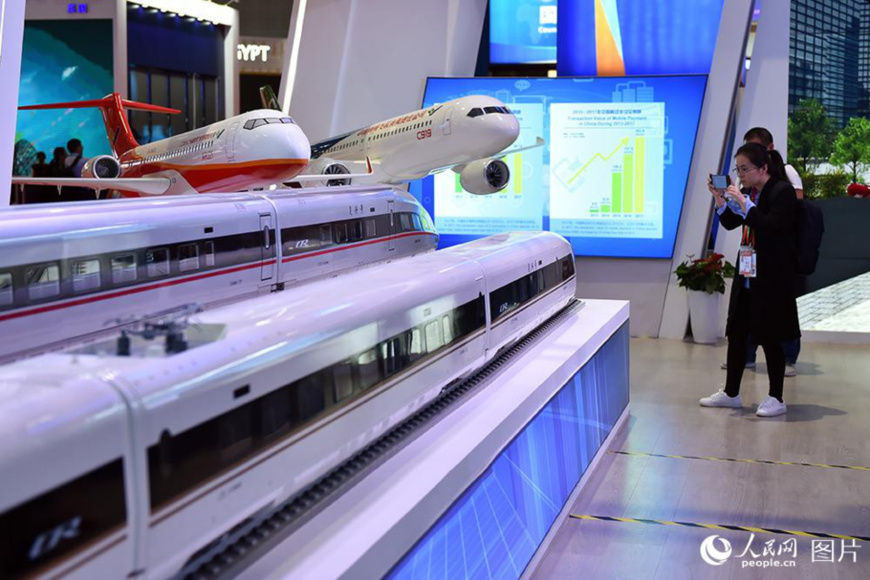 A journalist takes pictures at the China Pavilion during the first CIIE on Nov. 5. Photo by Weng Qiyu from People's Daily Online
As the first China International Import Expo (CIIE) kicked off Monday in Shanghai, a China with more openness, is embracing a better future together with the world.

Eighty-two countries and 3 international organizations are displaying their products at the 71 exhibition booths at the event's 30,000 square-meter National Comprehensive Trade and Investment Exhibition. Over 3,600 enterprises, including 200 Fortune Global 500 companies and industry leaders are in Shanghai for the CIIE. In addition, more than 100 new products and technologies will debut at the event.

The CIIE is of more significance especially when the world is threatened by rising trade protectionism and anti-globalization.

"It (the expo) demonstrates China's consistent position of supporting the multilateral trading system and promoting free trade. It is a concrete action by China to advance an open world economy and support economic globalization."

The powerful announcement made by Chinese President Xi Jinping in his keynote speech delivered at the CIIE opening ceremony indicated China's resolution to open wider and reflected China's responsibility to safeguard free trade.
Chief of International Monetary Fund (IMF) Christine Lagarde noted that China's further opening up would bring certainty and hope to the world.

In this sense, the first CIIE is not a plain exhibition, but a major announcement and action of China to open up its market.
The world is moving toward economic globalization. In today's global trade, "intra-product specialization" is gradually replacing "inter-product specialization".

The globalization of the old days used to focus on the trade of commodities, but the globalization nowadays is more and more shifting to the process of production. For instance, the chips, cameras and screens of smart phones may be produced in different countries.

In other words, economies are connected more closely through the globalization of production. Reducing trade barriers and opening wider makes a healthier international economy, while isolation only hinders global trade, thus leading to an unhealthy world economy.

Having China move toward the world and the world move closer to China, the CIIE opens a window to observe both China and the world.

China has deeply integrated into the world economy since its accession to the World Trade Organization (WTO), becoming a major trade partner of more than 120 countries and regions. At present, China is one of the world's largest markets and the second largest importer of commodities for 9 consecutive years. In the next 15 years, the country is expected to import $30 trillion worth of goods.

Being a market comprising of over 1.3 billion people, China will offer vast opportunities for each country regarding market, investment and development.

The CIIE serves as an opportunity for China to promote opening up at a high level. It not only releases huge dividend for China's high-quality economic development, but also welcomes each country to board the express train of China's development.

At the CIIE, 5 pragmatic measures to broaden opening up were announced by China. The country will stimulate the potential for increased imports, continue to broaden market access, foster a world-class business environment, explore new horizons of opening-up, and promote international cooperation at multilateral and bilateral levels.

Every measure has its target and corresponding mechanism of implementation, reflecting China's efficient execution and practical action. These measures fulfill China's commitment that China will not close its door to the world but only become more and more open, and showcase the country's philosophy of building a new platform featuring opening and win-win cooperation.