Source: People's Daily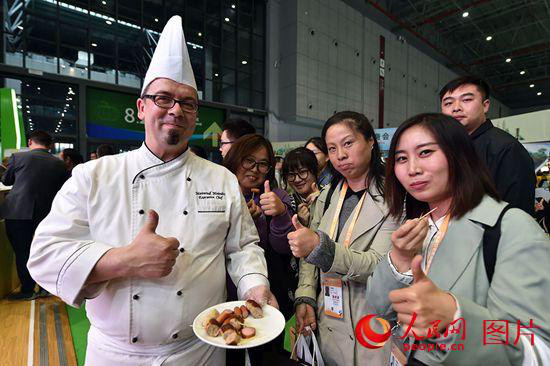 At the ongoing China International Import Expo (CIIE) in Shanghai, both exhibitors and buyers have achieved fruitful results.

Bruno Gnidehoue, general manager of Label Benin Production & Distribution, told People's Daily that his company has reached to 15 Chinese potential buyers and signed 8 letters of intent in just 3 days after the expo opened.

Gnidehoue was very satisfied with his trip to Shanghai, saying that he would definitely attend the next CIIE and bring other enterprises, so as to introduce more quality products to China from Benin.

"We receive more than a dozen of Chinese guests every day at the CIIE and they have showed great interest in Uruguayan beef products," said He Huan, a sales representative of a ranch in Uruguay. "The Chinese buyers are very professional. They inquired about the meat from foreleg and hindquarter, as well as the quality assurance after long transportation," He added.

He told People's Daily that with improving living standards, Chinese people now prefer high-quality products. "We export half of our ranch's beef to China, but I think the market potential is larger, and the CIIE has established an effective platform of international trade for us," He said.

In the exhibition area of trade in services, the TÜV Rheinland Group from Germany received a delegation from ZNB Quality of Scientific Research Academy in southern China's Hainan province.

Hainan free trade zone, vigorously developing new energy vehicles (NEVs), is planning to build a fast charging station every 25 kilometers in the future. The delegation came to discuss about technological standard setting issues on NEV as well as the test and installation of charging stations

"The discussion lasted more than two hours, and there are still more issues to be discussed," said Xia Bo, Vice President of Commercial and Industrial Products Services at TÜV Rheinland Greater China.

"Chinese enterprises have gradually entered a new phase of standard setting from merely producing. As a third-party supplier of quality check and standard setting, we are willing to offer more support to Chinese enterprises," Xia noted.

Zhao Xiangyu, who runs a foreign trade company in Xi'an, western China's Shaanxi province, signed a deal with Japanese cosmetic brand Hanajirushi after a short negotiation with the brand's sales director Xu Chao.

Zhao told People's Daily that the cleansing liquid, facial masks, as well as facial foams of the brand were all top-selling products, so his company was planning to make a purchase.

The foreign trade company of Zhao, who is in his early thirties, has hit a sales volume of over 50 million yuan in just 3 years since establishment.

"In the past, we had to resort to the agents to purchase overseas products, and the information asymmetry always led to high cost and low efficiency," he noted, adding that now he grasps the first-hand information by directly contacting with the exporters.

Zhao introduced that the cosmetics he purchased this time will be shipped by sea to the Tianjin Port without customs clearance after being produced in Japan, and then be transported to the bonded area of Xi'an by China-Europe freight train. He said he was planning to finally export the cosmetics to Europe through the Belt and Road Initiative.

Hu Haijing, general manager of SUMEC International Technology Corporation under China National Machinery Industry Corporation, told People's Daily that he has established relationships with many quality trade service providers. "I came to know a Japanese shipping company that can offer competitive prices in the routes to Europe and America, and we may have cooperation in the future," he said.

The SUMEC International Technology Corporation made fruitful achievements at the CIIE. It reached a 757-million-dollar contract with Japanese TMT Machinery, INC. to introduce a chemical fiber production line to Jiangsu Hengli Chemical Fiber Co., LTD., and signed a 400-million-euro deal with German equipment and technology company EBAWE to purchase a precast concrete production line.

"We will take in more quality resources to innovate our supply chain in the future, and I believe our path will only get wider and wider," Husaid.