By Wan Yu from People's Daily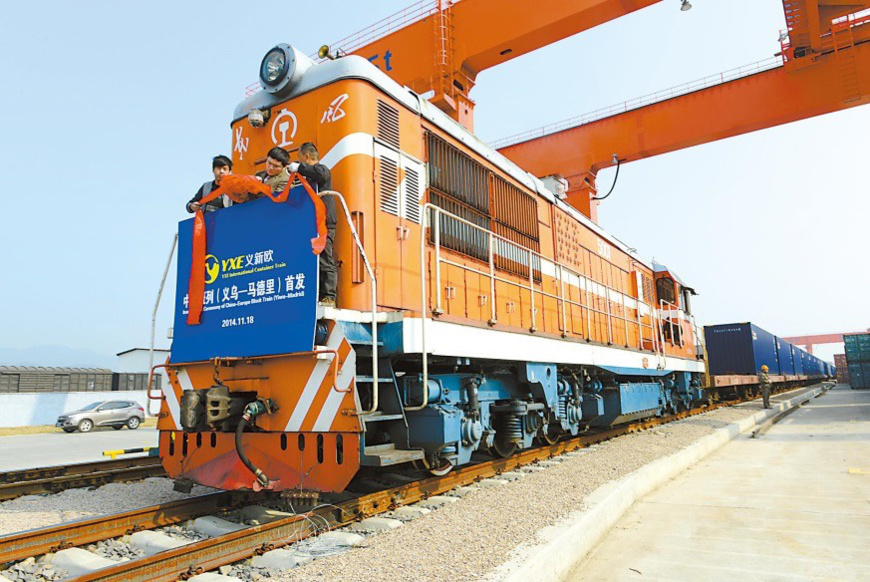 The first Yiwu-Xinjiang-Europe cargo train sets off in November 2014. (Source: People's Daily Online)
A working meeting on deepened international cooperation of China-Europe freight trains was recently held in Zhengzhou, central China's Henan Province. The event came as data showed that the trains have connected China with 34 cities in 12 European countries after six years of operation.

During the three-day meeting starting on Tuesday, more than 70 railway representatives from China, Belarus, Germany, Kazakhstan, Mongolia, Poland and Russia discussed their collaboration roadmap as well as working plans for the joint working group they set up. It was also their first meeting as members of the group.

The conference marked an intensified cooperation on China-Europe cargo train services.

China-Europe freight train, or China Railway Express to Europe, is a cargo train service between China and Europe, as well as Belt and Road countries that runs on fixed routes and schedules.

More than 5,000 cargo train trips have been made between China and Europe since the start of the direct rail freight services six years ago, half of which were made in 2017, showed statistics from China Railway Corporation (CRC).

A total of 57 routes have been opened, linking 34 Chinese cities with 34 European cities in 12 countries. In 2016, the number of China-Europe freight trains surpassed 1,700, including 1,130 outbound trains and 572 inbound trains, an increase of 109 percent year on year.

The 13,052-kilometer rail from eastern China's city of Yiwu to Madrid via Alataw Pass in Xinjiang Uyghur Autonomous Region has been in operation for more than 1,000 days since it set off for the first time on November 18, 2014.

Currently, nine routes from Yiwu to Europe have been opened, including the ones to Madrid, London and Prague. With 5 logistics centers and eight overseas warehouses, these routes radiate 34 countries.

The freight train service transports goods from eight Chinese provinces and municipalities including Zhejiang, Guangdong, Anhui, Jiangsu and Shanghai, covering nearly 2,000 items of China-made products such as small commodities, clothes, bags and tools.

Overseas projects, including the China-Belarus Industrial Park, and a wholesale market for small commodities set up by China in Warsaw, also benefited from the service.

Railway authorities of China, Belarus, Germany, Kazakhstan, Mongolia, Poland and Russia, inked an agreement to deepen cooperation on China-Europe freight rail services this April, said CRC, adding that this meeting held at its call aims to ensure a better implementation of the agreement.

During the three-day meeting, representatives also discussed next year's plans, specific operation of the broad-gauge sections, time and place for the team's next meeting and procedures for new member enrollment.