By Xu Wei, Ding Xuezhen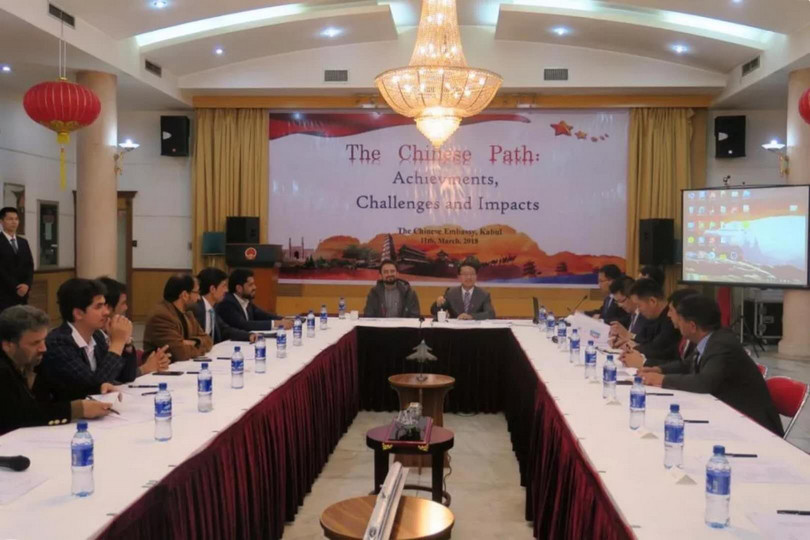 A photo taken at the forum held by Chinese Embassy in Afghanistan Mar.11, 2018, named "The Chinese Path: Achievements, Challenges and Impacts". Photo from Chinese Embassy in Afghanistan
Afghanistan is one of China's important neighboring countries. Sitting at the heart of Asia, it has land routes connecting different parts of the continent and used to be a bright pearl of the ancient Silk Road. The long-lasting friendship between China and Afghanistan since ancient times now is the solid foundation of the two-country's relationship, which never stops moving forward.

In October, 2014, President Ashraf Ghani chose China as the first country for his official visit shortly after taking office. During talks with President Ashraf Ghani in Beijing, President Xi Jinping stressed that China backed up Afghanistan integrating into regional cooperation and welcomed Afghanistan to actively participate in building the Silk Road Economic Belt.

In a joint statement, the two sides agreed on the importance of the building of the Silk Road Economic Belt on promoting mutually beneficial cooperation between China and Afghanistan and regional connectivity. Afghanistan as a traditional and historical transit route of the ancient Silk Road would work closely with China to jointly build the Silk Road Economic Belt, read the joint statement.

The participation of Afghanistan in the Belt and Road initiative contributes to connecting development and infrastructure construction of the initiative in South, West and Central Asia.

For our two countries, the friendship is sincere, sustained and concrete. China always supports Afghanistan in safeguarding national independence, sovereignty and territorial integrity as well as the peaceful reconciliation process featuring "Afghan-led and Afghan-owned" and hopes to see a united, stable, developing and amicable Afghanistan, which is in line with the fundamental interests of the Afghan people as well as the common aspiration of regional countries and the international community.