By Zou Song from People's Daily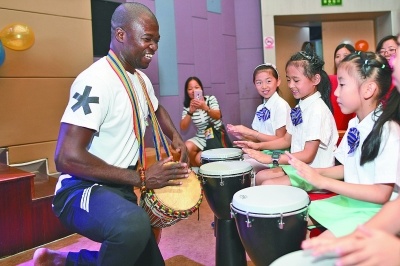 China and Africa have consolidated public support to further enhance bilateral practical cooperation thanks to their efforts in intensifying cultural and people-to-people exchanges in recent three years.

By the end of this August, a satellite television project aided by China has benefited nearly 2,000 villages in 9 African countries including Senegal, Guinea, Rwanda and Uganda.

The project has installed two digital TV projection devices for public service areas and offered free digital TV set-top boxes for 20 households in each village.

Dubbed "Access to Satellite TV for 10,000 African Villages," the project covers a total of 10,112 villages in 25 African countries, said Guo Ziqi, Vice-Chairman of China's StarTimes Group which implements the project.

The project was now advancing smoothly, and would be completed by the end of this year, Guo added.

"It is a great project. Thanks for choosing our village," villager Abu Bakar from Senegal told People's Daily, adding that he had never watched Chinese TV dramas before, and it is the Chinese project that made him learn about China and life of Chinese people.

A Rwandan young man Shamir, who interpreted for Rwandan President Paul Kagame during Chinese President Xi Jinping's state visit to his country this July, has become a hot figure in his country thanks to the increasingly strengthened China-Africa cultural cooperation.

Shamir had a close bond with China in the past 10 years. As a Chinese Government Scholarship recipient, he studied at China's Tianjin University and North China Electric Power University, and took part in a China-Africa cooperation project at Poly Solar Technologies (Beijing) Co., Ltd.

His experiences of living and studying in China are unforgettable for him. Shamir still remembers the celebration of the Chinese New Year with his colleague's family members in 2016 in Hebei province.

He was impressed by the warmth of the Chinese family and lovingly called the colleague's mother his "Chinese mom". Today, he still keeps in contact with her through WeChat, a Chinese social application.

Shamir told People's Daily that he would contribute to Rwanda's development with what he learnt in China.

Over the past three years, Chinese government has provided over 30,000 government scholarships for African students, and Chinese universities and colleges also created favorable conditions for them to study in China. The students are contributing to a cemented China-Africa friendship as "civilian ambassadors".

In addition, a wide range of tourism facilitation measures on visas and transport have been introduced with the joint efforts by China and Africa.

Many Chinese people travelto Africa to escape the heat this summer, according to a man surnamed Xiao engaged in African tourism business in Wuhan, Hubei province in the center of China. He disclosed that out-of-season travelling to African countries in the Southern Hemisphere had become a traveling choice for Chinese people.

The number of Chinese tourists to Africa has seen a 50 percent growth since China Southern Airlines and Air China opened direct flights between Guangzhou and Nairobi, Beijing and Addis Ababa, and Beijing and Johannesburg in the second half of 2015.

Tourists from the Chinese mainland to Africa only accounted for 3 percent of its total outbound tourists in 2008, but the rate rose to 10 percent in 2016, with the number of visitors climbing to 11.3 million, according to statistics by the World Tourism Organization.

The 2018 Beijing Summit of the Forum on China-Africa Cooperation (FOCAC) held on Sept. 3 and 4 will chart a new path to elevate China-Africa friendly cooperation to a new level.

It will introduce various people-centered cooperative measures to deepen mutual understanding and affection between the two peoples, and enable the China-Africa friendship to be passed on from generation to generation.