By Zhang Huizhong, Zhang He from People's Daily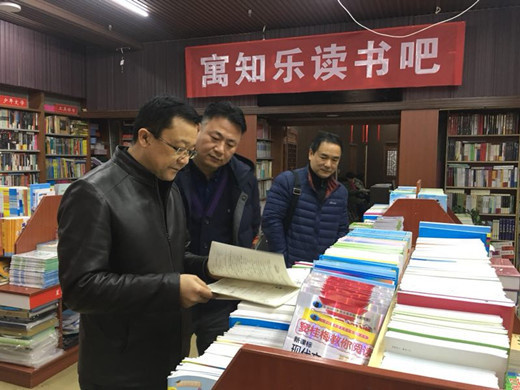 Anti-pornography office in Tianjin checks printing enterprises ahead of the 2018 Spring Festival. (Photo from China's National Office Against Pornographic and Illegal Publications)
A series of operations to crack down illegal online content have been launched nationwide by the authorities during the 2018 Spring Festival and winter vacation, in a bid to provide a healthy internet environment and proper guidance for the minors in China.

The movement came as vulgarity, flaunt of wealth, spoofs and undesirable values have long been bothering China's live-streaming industry.

Moreover, fake video clips of popular cartoon characters made into scenes of violence, terrorism and sexuality, called "children's evil classics" by Chinese media, were put online. Chinese government has launched investigation against the producers of such videos in accordance with the law, as well as the video portals that offered platforms for such inappropriate content.

An intensified operation over illegal live-streaming platforms and online games was initiated as well.

Within 20 days, Beijing eliminated a total of 2.1 million links to the "evil classics" videos and illegal online games. An operator of a website which was found to offer "evil classics" online games was also punished by Tianjin government.

Moreover, during the past winter vacation, a 5-episode courseware on internet security was released by China's National Office Against Pornographic and Illegal Publications to offer juveniles more information in this regard.

Central China's Hunan province, southwest Chongqing, and Guangzhou in south China, have broadcast the promotional videos via cinemas, ship-borne TVs, mobile devices and e-cards on H5 pages as well as social application stickers. More than 250,000 citizens in Guangzhou reposted the videos to let more children educated.

The Beijing railway administration, while tightening checks to prevent the unhealthy publications from boarding, also played the videos at subordinated railway stations, as well as on high-speed trains commuting from Beijing to Tianjin, Shanghai, and Guangzhou. The videos were watched by 20 million passengers.

A special campaign will be launched by the anti-pornography office in 2018, as part of its intensified efforts to punish live streaming platforms and online games containing vulgar and illegal content, as well as clean up unhealthy publications.