By Li Feng, Wang Yunsong from People's Daily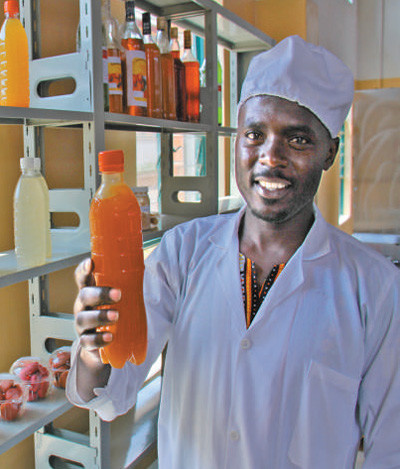 A student of China-aided Musanze Polytechnic shows the fruit wine made by him. (Photo by Wang Yunsong from People's Daily)
"Over the years, China has provided a great deal of assistance to Africa's development. Bearing gratitude and respect for the Chinese people, we cherish the friendship with China," said a vice principal of a Rwanda-based vocational school, which is also one beneficiary of such assistance.

Surrounded by green hills, the Musanze Polytechnic in Rwanda's Northern Province is a technical school established with China's assistance. Since it was put into use in March 2015, it has enrolled a number of students, of which more than 1,000 are now pursuing a study in the campus.

Thanks to China's help, the clean and tidy campus is now equipped with impressive equipment and facilities, including football field, basketball court, solar street light, workshops, training bases, computer rooms as well as lecture hall that can accommodate more than 200 students.

"We are grateful to Chinese government for building a so beautiful and wonderful campus for us," Joseph, vice principal of the Musanze Polytechnic told the People's Daily, adding that his school is working with a China-based sister school to learn mature experience and advanced teaching theories from the latter.

"By doing so, we hope to realize a leapfrog development of vocational education, and train talents urgently needed by Rwanda and its neighbors," he added.

China decided to fund the construction of the Musanze Polytechnic with an aim to back Rwanda's plan to make itself a knowledge-based economy by developing human resources.

With only 171 students in early days when it was set up, the school now has students across the country.

An agreement has already been inked by both sides this January, in which China pledged to provide funds to extend Musanze Polytechnic and install new equipment for its workshops and laboratories, so that the school can offer more courses for more students in the future.

In December 2016, the Rwanda-headquartered school signed an agreement with its sister school, the Jinhua Polytechnic in east China's Zhejiang Province, confirming to establish a closer cooperative partnership.

Having so far set up institutes of international cooperation, Chinese language learning and skill development in the Musanze Polytechnic, the Jinhua Polytechnic is now mulling for further bilateral collaboration in campus management, faculty dispatchment and talent training.

Data shows that among the 198 overseas students of the Jinhua Polytechnic, 151 came from Africa.

The vice principal is looking forward to Chinese President Xi Jinping's state visit to Rwanda, saying that the visit shows "it is so precious to develop a friendship with China".