By Li Yingqi from People's Daily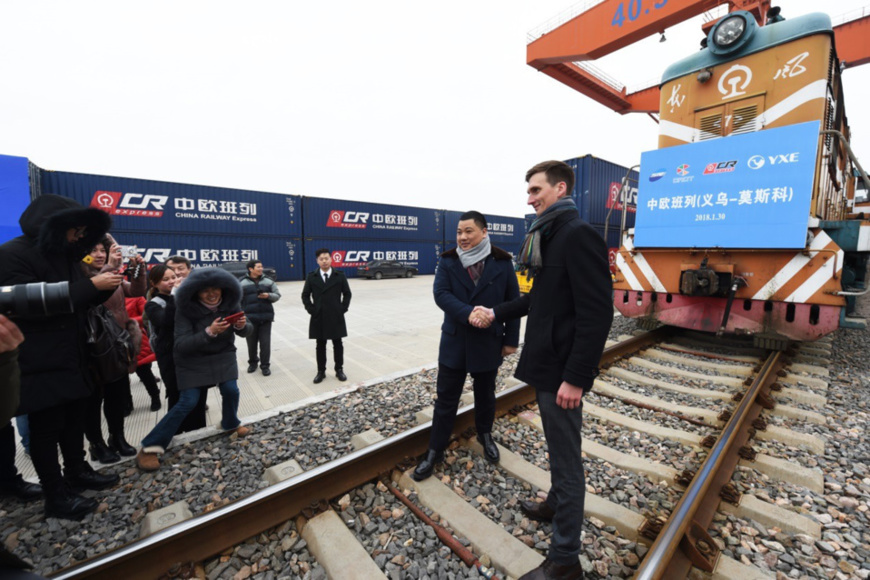 Chinese and Russian operators of a rail link between east China's Yiwu City and Moscow in Russia receive an interview on Jan. 30, 2018. On that day, a train carrying 100 standard containers of small commodities departed from the Yiwu West Railway Station for Russia, leaving China from Manchuria in the northeast. (Photo by Gong Xianming from People's Daily Online)
China will create a new landscape in all-around opening up, Premier Li Keqiang pledged when delivering a report on the work of the government last Monday.

To achieve this, the country will further expand the scope and raise the quality of its opening up, improve the structure, layout, institutions, and mechanisms for opening up, and use high-standard opening up to generate high-quality development, the reported noted.

His statement came as 2018 marks the 40th anniversary of the reform and opening-up policy. Thanks to its nonstop efforts to reform itself and open wider to the world over the past 40 years, China rose from a backward and impoverished country to a prosperous and strong one.

China, now world's second largest economy, biggest trader in goods, and second-largest source of outward foreign direct investment (FDI), has witnessed noticeable improvements in living standards of its public and an increasingly vigorous society.

According to statistics provided by the Ministry of Commerce, 35,652 foreign enterprises started new businesses in China last year, increasing 27.8 percent from a year ago. A total of 877.56 billion yuan ($138.59 billion) foreign investment was actually used, up 7.9 percent on a year-on-year basis.

Last year, China's foreign capital structure saw a further optimization. Foreign direct investment in the country's high-tech industries witnessed a year-on-year growth of 61.7 percent, accounting for 28.6 percent of total foreign direct investment.

The regional distribution of foreign investment was also optimized. Actual use of foreign direct investment in central China stood at 56.13 billion yuan ($8.87 billion), registering a 22.5 percent year-on-year increase that led the country. The number of new foreign-invested enterprises in western China rose by 43.2 percent, indicating a growing vitality of market players.

The Belt and Road economic and trade cooperation has achieved remarkable results last year. The value of China's foreign trade with countries along the routes climbed to 7.4 trillion yuan ($1.17 trillion) last year, up 17.8 percent on a year-on-year basis.

Chinese enterprises' direct investment to the countries along the Belt and Road hit $14.4 billion in 2017. The total value of the newly signed contracts there amounted to $144.3 billion, providing important opportunities for local development.