By Luo Shanshan from People's Daily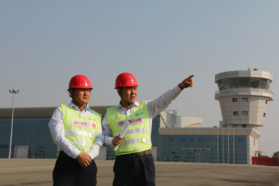 China has remained Africa's largest trading partner for 9 consecutive years as major cooperation programs further deepened bilateral economic and trade exchanges, according to a briefing held by China's State Council Information Office on Tuesday.

China and Africa, over the past two-plus years, have implemented all of the economic and trade measures included in the 10 major plans for China-Africa cooperation raised by Chinese President Xi Jinping at the Johannesburg Summit of Forum on China-Africa Cooperation (FOCAC) in December 2015.

Trade and economic cooperation, which occupied a heavy weight in the 10 major plans, has been China's priority when launching cooperation with Africa.

In 2017, China-Africa trade volume reached $170 billion, up 14 percent from the previous year. In the first 6 months this year, China and Africa grew their trade by 16 percent year-on-year to $98.8 billion.

China's direct investment in Africa has remained an annual average of around $3 billion in the recent 3 years.

Since the proposal of the 10 major plans, projects completed by and under construction of Chinese enterprises in Africa are estimated to add around 30,000 kilometers of highway, increase 85 million tons of annual port capacity, and raise over 9 million tons of daily water treatment capacity for the continent.

Besides, these projects will increase a power generation capacity of nearly 20,000 MW and build over 30,000 kilometers of power transmission and transformation lines for Africa. And nearly 900,000 jobs will be created for local communities.

So far, China has established over 20 regional vocational education centers and capacity-building institutes in Africa. The country plans to train over 200,000 professionals in Africa and offer China-based training courses to over 40,000 African officials and technicians by the end of 2018.

China has also launched hundreds of projects in African countries in agriculture, poverty alleviation, public health, and trade and investment facilitation. A total of 1,500 Chinese medical workers have been sent to Africa, providing treatment for about 460,000 patients.

Preparation work for the 2018 Beijing Summit of FOCAC is now proceeding well. Scheduled to be kicked off on September 3 in Beijing, the two-day meeting will be the third summit of the mechanism on China-Africa cooperation.