By Liu Lingling from People's Daily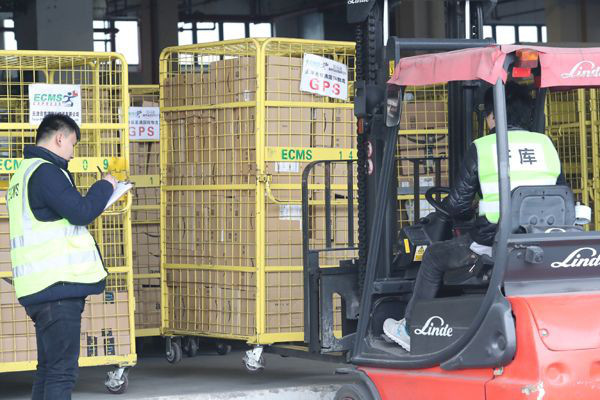 Staff prepares freight destined for offshore customers at a warehouse of Shanghai Customs Supervision Center. (Photo from the official website of the first Global Cross-Border E-Commerce Conference)
Cross-border e-commerce is booming in China as trade figures show it surged 80.6% in 2017 from a year earlier to 90.24 billion yuan ($14.32 billion).

The growth rate has been over 50% for three consecutive years, show statistics from China Customs.

With China's online retail market growing at breakneck speed, a new group of shopping platforms, represented by Xiaohongshu and Kaola, are gaining more followers with innovative business models, Japan's business-oriented newspaper Nihon Keizai Shimbun said in a recent article.

Statistics show that the annual value of China's e-commerce market stood at 5.5 trillion yuan ($868.5 billion) in 2017, up 28% over the previous year. About 10% of the volume came from offshore products.

Experts say the Belt and Road Initiative has injected strong momentum in cross-border e-commerce.

Urumqi, capital city of northwestern China's Xinjiang Uygur Autonomous Region, expanded its export by seizing opportunities brought by China-Europe freight trains.

Figures from local customs show the city, located at a key point on the Silk Road Economic Belt, exported 562,400 items purchased through cross-border e-commerce in 2017, with a commodity value of nearly $3.88 million.

As a new business model, cross-border e-commerce has also brought huge challenges to customs supervision. To cope with the increased volume of trade, China has explored innovative ways to help the industry develop in a well-regulated manner.

China's General Administration of Customs, in 2014, introduced a new customs supervision code to standardize management of cross-border e-commerce, following a pilot program initiated in some cities in 2012.

In 2016, the country implemented the supervision and service systems to more places and the whole industry was brought on to a fast track.

A framework of standards was formulated by global customs organizations at the first Global Cross-Border E-Commerce Conference in Beijing this February.

The framework, initiated by China's General Administration of Customs, serves as a guide for the world to regulate and serve the cross-border e-commerce, sharing Chinese experience to help the sustainable development of the industry.