By Li Yingqi from People's Daily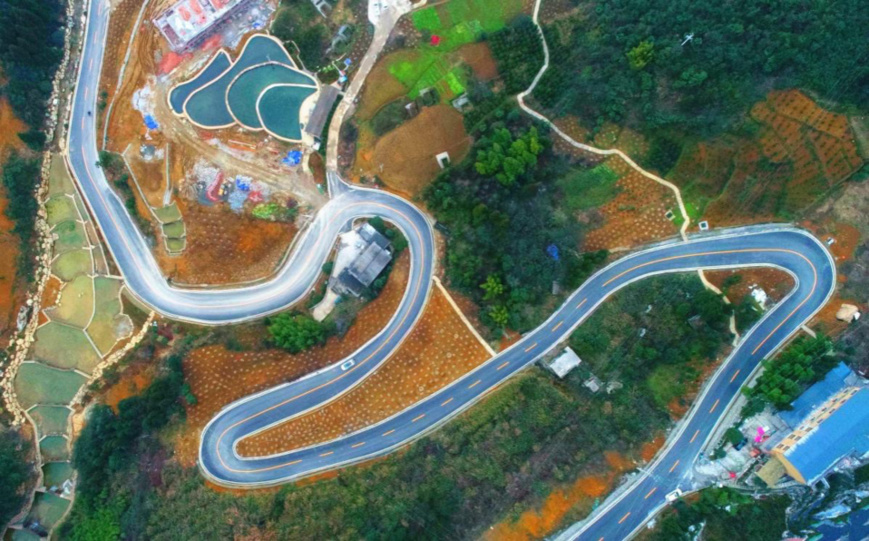 Photo taken is the newly-built roads of Nanmen village, Heishan town, Wansheng Economic and Technological Development Zone of Chongqing. The roads, built at an altitude of 1,000 meters, accelerate the pace of the village to get out of poverty. (Photo by People's Daily Online)
China is expected to continue its strong progress toward eliminating extreme poverty, the World Bank said in its latest report, projecting its extreme poverty rate to fall below one percent in 2018, based on the international poverty line of purchasing power parity (PPP) US$1.90 per day.

The report, subtitled "Towards a More Inclusive and Sustainable Development" ,highlighted China's rapid growth has resulted in a decline in poverty "unprecedented in its speed and scale".

In its new Systematic Country Diagnostic for China, the bank believed that the world's second largest economy can secure more inclusive and sustainable development with coordinated reforms across a broad range of areas that maximize development impact and address its development challenges.

"Rapid growth was made possible by a wide range of reforms, which transformed a state-dominated, planned, rural, and closed economy to a more market-based, urbanized, and open economy", the report said.

China's transition to more inclusive and sustainable growth, according to the bank, will be underpinned by reforms of the country's governance and institutions.

China's real per capita income increased 16 times between 1978 and 2014, said the report, adding that this enabled its extreme poverty rate, based on the international PPP US$1.90 per day poverty line, to fall from 88.3 percent in 1981 to 1.9 percent in 2013.

"This implies that China's success enabled more than 850 million people to escape poverty," it pointed out.

"China's remarkable progress in reducing extreme poverty has significantly contributed to the decline in global poverty," said Hoon S. Soh, World Bank Program Leader for economic policy for China.

The World Bank will continue to support China in its efforts to eliminate extreme poverty and ensure inclusive and sustainable growth, he vowed.