By Liao Ruiling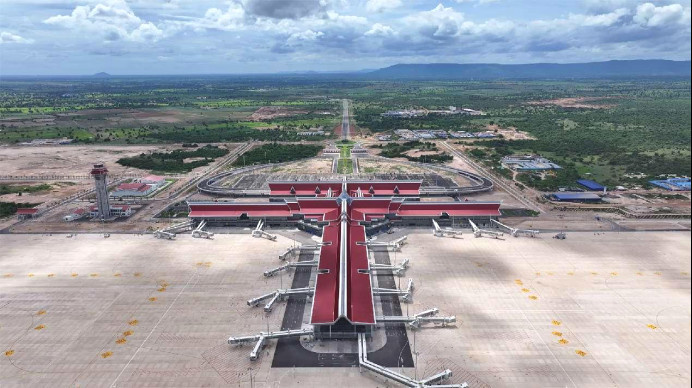 Photo shows the Siem Reap Angkor International Airport in Cambodia invested and built by Chinese enterprises. (Photo by Hu Xinlin )
China's outbound direct investment (ODI) in 2022 reached $163.12 billion, ranking second in the world, according to a report jointly released by the Ministry of Commerce, the National Bureau of Statistics and the State Administration of Foreign Exchange.

The report comprehensively reflects China's ODI in 2022, including the flow and stock, the country's ODI in major economies, the composition of outbound direct investors, and the composition of ODI enterprises.

The Thar Coal Block-I Coal Electricity Integration project in Pakistan operated by Shanghai Electric supplies electricity to 4 million local households. In Hungary, a server is being produced every minute on average in an automated and intelligent factory built by Chinese technology company Lenovo..

In recent years, Chinese companies have accelerated their pace of "going global," continuously increasing their overseas investment.

According to the report, China's ODI flow has ranked among the top three globally for 11 consecutive years, and accounted for over 10 percent of the world's total for seven years in a row. The country's ODI stock reached $2.75 trillion at the end of 2022, ranking among the top three in the world for six consecutive years.

Chinese enterprises are now doing business in over 80 percent of the countries and regions in the world. By the end of 2022, domestic investors in China had set up 47,000 overseas enterprises in 190 countries and regions worldwide, with nearly 60 percent in Asia, 13 percent in North America and 10.2 percent in Europe. Among them, 16,000 were established in Belt and Road countries.

"As evidenced by China's high global rankings in ODI flow and stock, Chinese enterprises are developing rapidly and strengthening their presence in the global market, and improving local infrastructure and creating massive jobs with their projects launched worldwide," said Yu Miaojie, president of China's Liaoning University.

By doing so, Chinese enterprises have promoted unimpeded trade, financial integration and people-to-people bonds, thus driving global economic development, Yu added.

Chinese companies are increasingly expanding their presence overseas and investing in a wider range of industries. According to the report, in 2022, China's ODI spanned across 18 major sectors of the economy. Notably, investments exceeding $10 billion were made in areas such as leasing and business services, manufacturing, finance, wholesale and retail, mining, and transportation.

Green investment has become a major highlight. "In recent years, China's outbound investment has maintained steady expansion, and the quality has also improved, with significant growth in the field of new energy," said Liu Qiao, Dean of the Guanghua School of Management at Peking University.

Statistics showed that new energy was the sector that saw the highest number of outbound investment projects in the power industry last year, accounting for approximately 58 percent of the total.

Among them, there were eight solar power projects, accounting for 33 percent, with an investment of $1.33 billion. Six projects were wind power projects, accounting for 25 percent, with an investment of $519 million.

Chinese enterprises pursue win-win cooperation to assist other countries' economic development when they go global. The report said that in 2022, Chinese enterprises overseas paid a total of $75 billion in taxes to the countries they invested in, up 35.1 percent. The total number of employees of these companies surpassed 4.1 million at the end of 2022, of which nearly 2.5 million were local employees.

In 2022, China's outbound investment stimulated $256.6 billion worth of imports and exports of goods. Additionally, non-financial Chinese enterprises operating abroad generated $3.5 trillion in sales revenue, a 14.4 percent increase compared to the previous year.

Dorothy Tembo, Deputy Executive Director of the United Nations International Trade Center, said at the 23rd China International Fair for Investment and Trade that trade and investment will revive the global economy, promote economic development and create more jobs in a sustainable manner, no matter the capital is to or from China.

China's outbound investment has maintained a sound momentum since this year. According to statistics released by the Ministry of Commerce, China's non-financial ODI increased 18.8 percent year-on-year to 585.61 billion yuan ($80.3 billion) in the first eight months of the year. In particular, Chinese enterprises' non-financial ODI in Belt and Road countries reached 140.37 billion yuan, up 22.5 percent year-on-year.

Meanwhile, the turnover of the overseas contracted projects amounted to 648.62 billion yuan, up 6.1 percent from a year ago, and the total value of the newly signed contracts was 863.34 billion yuan, up 2 percent from a year ago.