By Du Yifei from People's Daily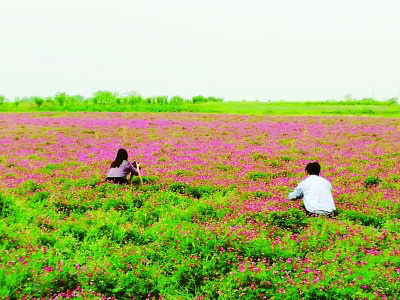 Blooming flowers on a piece of land covered by the crop rotation and fallow trials become a tourist attraction in east China's Jiangsu province. (Photo from Nanjing Daily)
The trials of crop rotation and fallow systems, introduced by Chinese authorities two years ago to relieve the burden on its limited arable land and facilitate the green development of agriculture, have benefited the farmers in pilot areas.

Last winter, farmer Liu Fusheng in Xishengfo village in Yanshan county of north China's Hebei province was less occupied by farm work than previous winters.

As one of the Chinese farmers to practice the crop rotation and fallow systems, Liu has changed the way he grows crops from growing wheat in winter and corn in summer to plant corn or other crops for one season only.

He will get 500-yuan ($ 79) allowance per mu, or 0.067 hectares of land under the system, which means his income is unaffected, while the burden on his land is relieved.

In 2018, the third year after the launch of the trials, arable land covered under crop rotation measures will increase to 24 million mu from 6.16 million mu in 2016.

The crop rotation system will be mainly carried out between corn and soybeans, with the aim to raise fertility level of the soil, while the purpose for the fallow system is to ease the burden on arable land by reducing the use of land and water resources.

The decision came amidst excessive exploitation of arable land, and uncontrolled use of water resources and chemical fertilizers in the past years to ensure food supply.

The crop rotation and fallow systems are aimed at changing the overuse of farming resources and environment. Currently, China sees bumper harvests and rising agricultural production for successive years, but structural problems remain.

The systems would help upgrade resource allocation, promote structural adjustment, reduce ineffective supply and increase effective supply.

This year, 5 billion yuan will be allocated from the central budget to fund the systems, with each mu of land covered by the trials receiving an allowance of 500 to 800 yuan, according to the Ministry of Finance, responding to fears that farmers who join the trials may suffer losses from the systems' possible economic impact.

China's Ministry of Agriculture has called 2018 "the year of agriculture quality". As an effort to seek high-quality development of agriculture, the crop rotation and fallow systems are widely welcomed by farmers and have become an important way for local governments to develop green agriculture.