By Wang Yunsong from People's Daily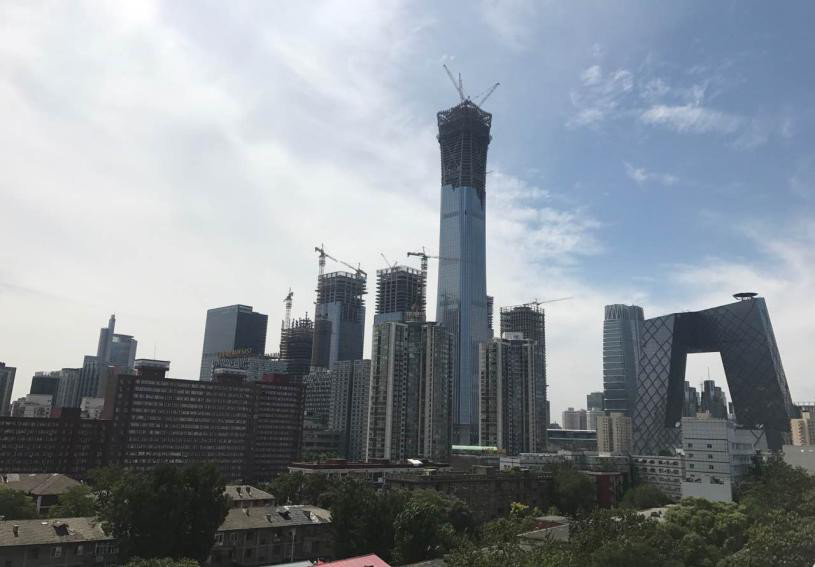 Beijing's skyline shows office buildings and residential buildings in the Central Business District (CBD). (Photo by Wang Yunsong from People's Daily)
China's property market continued to show signs of cooling as house prices fell or posted slower growth in major cities in January, thanks to a string of measures rolled out by authorities in 2017 to rein in rising prices and promote rental housing, latest data released by the National Bureau of Statistics (NBS) indicated.

Of the 70 large and medium-sized cities surveyed, new residential housing prices in first-tier cities declined in January in comparison to last December, while the growth of house prices in second-and third-tier cities has also declined.

New residential home prices declined by 0.1 to 3.4 percent from a year ago in 11 of the 15 major cities considered the "hottest markets", including Beijing, Shanghai, Shenzhen and Tianjin. Meanwhile, prices in Guangzhou, Xiamen, Jinan and Wuhan rose by 0.7 to 3.7 percent, the statistics showed.

Noticeably, Beijing's second-hand home prices fell for the ninth consecutive month. The end of soaring housing prices can be attributed to a series of new policies introduced by Chinese authorities in 2017.

China will stick to the principle that housing should be occupied and not used for speculation, as Minister of Housing and Urban-Rural Development Wang Menghui previously pledged, saying that the rules are designed to promote a steady, healthy housing market.

According to a statement issued after the 2017 annual Central Economic Work Conference, the country will move faster to put in place a housing system that ensures supply through multiple sources including commercial residential housing and indemnificatory housing.

Rental housing will also be encouraged, said the statement, adding that the country will develop its rental market, especially long-term leases and protection of the legal rights of tenants and landlords. The country will also encourage the development of housing rental enterprises.

In the future, the supply of rental housing is set to expand nationwide. According to the 13th Five-Year Plan, China's social and economic roadmap for 2016 to 2020 calls for Beijing to build 1.5 million units of residential houses, including 500,000 units of rental houses. Shanghai will build 1.7 million housing units, including 700,000 rental units.