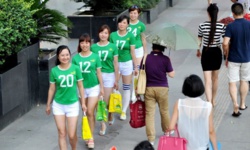 By Wang Ke from People's Daily
China's service trade maintained a stable and rapid growth in the first half of 2018, according to the Department of Trade Services and Commercial Services under China's Ministry of Commerce (MOFCOM) on Aug. 7.

The country's service trade hits a record high in the first 6 months this year with further optimized trade structure, as well as improved quality and profits, the department noted, adding that the country has secured a stable performance with good momentum for growth, laying a solid foundation for the high-quality development of service trade.

Statistics showed that the country's service trade rose by 8.5 percent year on year to 2.53 trillion yuan ($369 billion) in the first half of this year.

Specifically, service exports amounted to 842 billion yuan and service imports reached 1.69 trillion yuan, resulting in a deficit of 848 billion yuan. The service trade deficit was down by 2.66 billion yuan, narrowing for the first time since 2010.

Further optimization of service trade structure was one of the highlights. From January to June, the total import and export of emerging services hit 846 billion yuan, up 19 percent, 10.5 percentage points higher than the total growth rate. The performance contributed to a 3-percent growth in the share of emerging services in the general service trade. The share of traditional services of travel, transportation and construction dropped by 2.5 percent, and proportion of the travel sector was down by 3.1 percent year on year.

The growth of service trade was faster than similar economic indicators thanks to the stable growth of domestic economy. In the first 6 months of 2018, China's service trade accounted for 15.2 percent of the total foreign trade, up 0.1 percentage point year on year. The growth of import and export of services outpaced that of goods trade, the value added of the service sector, and the national economy by 0.6, 0.9 and 1.7 percentage points respectively in the same period.

Besides, the country saw a rapid growth in the export of emerging services. Export of emerging services reached 440 billion yuan in the first 6 months, growing by 23.6 percent, 10 percentage points higher than the growth of the general service exports. The sector accounted for 52.3 percent of the total trade service exports, 4.2 percentage points higher than that in the same period last year.

The growths of telecommunication and information, insurance, personal culture and entertainment, and maintenance and repair services were all above 20 percent, respectively standing at 52.4 percent, 37.9 percent, 35.8 percent and 22.6 percent. China has made initial achievement through its policies and measures to promote service exports.