By Bai Yang from People's Daily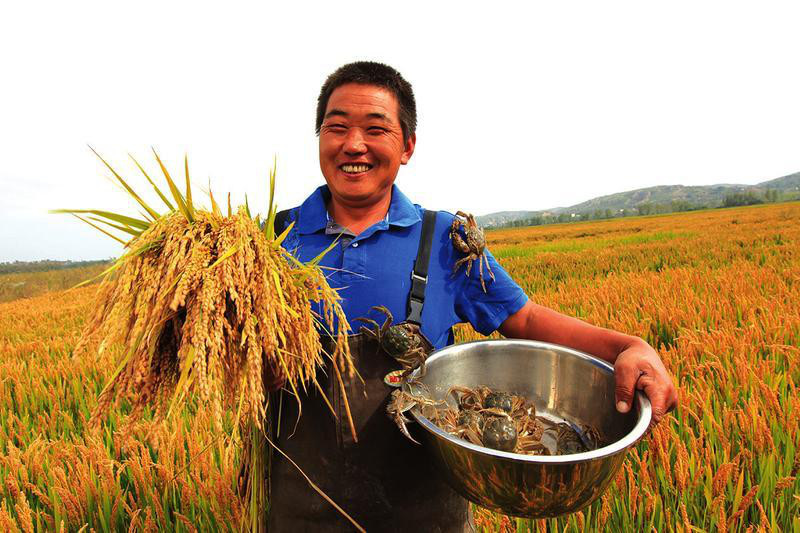 A farmer harvests rice and collects crabs in Hengshan district of the city of Yulin in northwest China's Shaanxi Province. (Photo: Hengshan District People's Government website)
China released guidelines on green development in agriculture this month, setting zero growth in the use of chemical fertilizers and pesticides as one goal. The roadmap came amid increasing demand for organic products and charted a course for green agriculture.

Actually, rice farmers in Northeast China's Jilin Province already started to test the waters: Deploying ducks to grow healthier food.

People in Huinan county, southeast of the province, raised 5,000 ducks in rice fields feeding them on grass and prawns. Through this approach and assisted by manual weeding, chemical pesticides were no longer needed.

"I raise 5 kilos of river crabs in every mu of rice paddy," said Huinan rice grower Zhang Mingjiang, referring to the unique Chinese mainland measure of a field equivalent to about 667 square meters. Zhang has put crabs into about 8.5 hectares.

"They eat grass, eliminating the use of chemical pesticides and fertilizers," he said. "The new growth method can generate 2,000 yuan ($303) more than simply growing rice."

More farmers in Jilin have started to raise ducks, crabs, mud fish or crawfish after the province rolled out its rice-fish farming mode with the aim of building a brand image.

The scientific farming mode has not only produced healthier rice but also generated extra profit. By the end of 2016, Jilin had some 691,000 hectares of farmland producing organic, unpolluted agricultural produce.

China is focusing more on quality of agriculture in a bid to satisfy rising domestic demand for green and organic food.

The guidelines on green development in agriculture are the first to set goals for conservation of resources and environmental protection. The country should maintain a certain area of arable land and prevent land quality from worsening, according to the document.

The guidelines rule against excessive exploitation of groundwater. And the document targets zero growth in chemical fertilizers, pesticides alongside the comprehensive use of straw, animal waste and agricultural plastic film.

To guarantee better implementation, the goals were categorized into specific objectives set to be accomplished by 2020 and long-term goals by 2030.

Han Changfu, Minister of Agriculture, said it is the country's first document about green agriculture that sets the roadmap and timetable for the development of the sector.

Over the past five years, China has made great strides in the process of agricultural modernization, with grain output having surpassed 600 million tons and vegetable and fruit production having exceeded 700 million.

But the agricultural sector remains resource-intensive, with pollution and ecological degradation yet to be contained. The supply of high-quality, green farm produce needs to increase to satisfy growing demand, the document explains.