By Hua Fang from People's Daily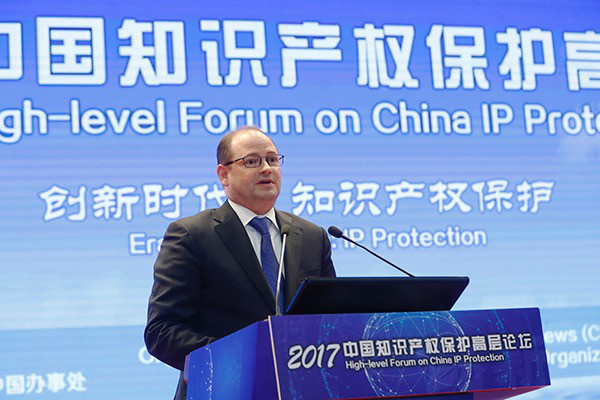 Mark Snyder, Senior Vice President of Qualcomm Incorporated, delivers a speech at the 2017 High-Level Forum on China IP Protection. (Photo from the Official Website of the State Intellectual Property Office)
A total of 190,000 cases related to infringement of intellectual property rights (IPR) were handled in the past five years in China, an average annual increase of 40 percent, Shen Changyu, director of the State Intellectual Property Office (SIPO), told the press on Tuesday on the sidelines of the first session of the 13th National People's Congress.

The country's efforts on IPR protection have aroused a higher degree of satisfaction among the public, who gave 76 points in this area in 2017 compared with 63 points in 2012, Shen said.

The progress can be evidenced by the deal of US chipmaker Qualcomm Inc. in China. Last year, Qualcomm set up a joint venture with an investment 1.85 billion yuan (about $294 million) in southwest China's Guizhou province, partnering with the provincial government for the design and development of advanced server chipset technology.

"We have seen China's determination to protect intellectual property after its implementation of national intellectual property strategy," Mark Snyder, Senior Vice President of Qualcomm Incorporated, explained why his company has chosen China as a destination of investment.

The tech giant also agreed with local government to set up a holding company in the province to manage investment in the Chinese market.

The SIPO has established 19 IPR centers nationwide, which have been proved effective in IPR protection. This year, the office will launch a larger IPR framework and optimize its structure.

Strengthening the protection of intellectual property is emphasized in Chinese Premier Li Keqiang's report on the work of the government delivered on March 5. To achieve this, Shen said the SIPO will take more efforts.

The office, according to him, will move faster to amend the patent law and introduce punitive damages measures, so as to reinforce the punishment against IP violations and let the violators pay.

A network of IPR protection will be established, Shen said, elaborating that the SIPO will concert efforts with other departments by combing multiple channels including inspection authorization, administrative law enforcement, juridical protection and mediation and arbitration.

Efficiency of IPR protection will be improved as well, Shen said, expounding that efforts will be made to coordinate different IPR centers for rapid investigation, authorization and rapid handling, so that intellectual property owners are allowed to safeguard their rights more efficiently with lower cost.

The SIPO will treat various enterprises equally, including domestic enterprises and international ones, big companies and small firms, state-owned companies and private sectors, to provide protection over their intellectual properties and create a better business environment, the official said.