By Liu Xuxia from People's Daily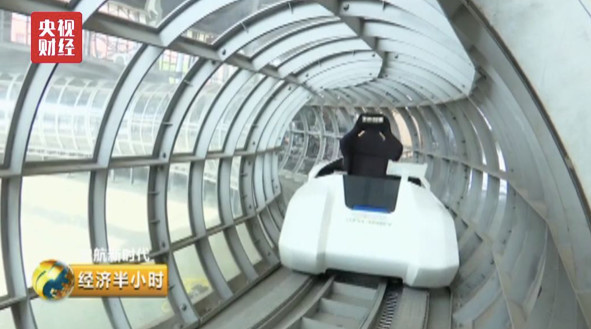 The world's first prototype testing platform for an ultra-high-speed vacuum maglev train built by China's Southwest Jiaotong University. (Photo: screenshot from China Central Television)
Chinese scientists have built the world's first prototype testing platform for an ultra-high-speed vacuum magnetic levitation (maglev) train that can travel at a whopping 1,000 kilometers per hour under ideal conditions.

Developed by Sichuan-based Southwest Jiaotong University, it is the first high-temperature superconducting maglev test loop in China.

The 45-meter loop, with a designed load capacity of 300 kilograms and a maximum load of 1,000 kilograms, can levitate the train to over 20 millimeters above the track.

It is a superconducting maglev system that has the smallest cross section and uses the smallest amount of permanent magnet materials. The loop is capable of conducting dynamic tests ranging from 0 to 50 kilometers per hour.

According to team leader Deng Zigang, also professor from the Sichuan-based university, the actual load capacity of 1,000 kilograms is the core competence of the technology.

The cross section of the track is the smallest in the world, Deng said, adding that the consumption of permanent magnet materials also stands at a very low figure thanks to the 120-millimeter width and 25-millimeter thickness of the track.

The technology developed by Chinese scientists has amazed the world. The US-headquartered Institute of Electrical and Electronics Engineers, the world's largest association of technical professionals, covered the findings with a two-page report.

China Aerospace Science & Industry Corporation claimed in August that it was developing a "flying train" capable of travelling up to 4,000 kilometers per hour, 10 times faster than the high-speed trains running between Beijing and Shanghai.