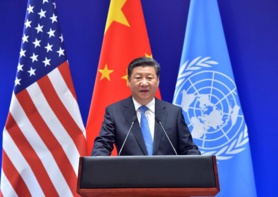 People's Daily
The remedies given by Chinese President Xi Jinping to world economy not only demonstrates China's responsibility as a major developing nation, but also helps revive the confidence and courage of world economy, said the commentary published by the People's Daily after Xi's keynote speech at the B20 Summit on Saturday.

According to the article titled as "Be pioneer in world economy", Xi depicted the world of China's development achievements and prospects and gave out "prescription" on world economy. "China will embrace even better prospects and make still greater contribution to the world," the article said.

The following is an abstract of the commentary:

The 11th G20 Summit kicked off in Hangzhou, East China's Zhejiang Province. As today's world economy and global governance system are standing at a critical juncture, the whole world looks forward the remedies given by the summit as well as the wisdom contributed by the host country.

Amid the complicated global economy loomed with risks and challenges, the world has shifted its attention to China. They hope to know whether the world's second largest economy can sustain a steady growth and whether it can avoid a "middle income trap" through continuous reform and opening-up efforts.

By defining China at a new historic starting point of development, Xi provides answers to these queries in his keynote speech in five aspects at the B20 Summit.

At the new starting point, China will steadfastly deepen reform in an all-round way and open up brighter prospects of development, pursue an innovation-driven strategy to create stronger growth drivers, promote green development to achieve better economic performance, promote equity and sharing of development outcomes to deliver more benefits to the people, and open up wider to achieve greater mutual benefit and win-win outcomes.

In the first half year, China managed to maintain its economic growth at 6.7 percent and submitted a satisfactory answer in many other sectors.

China is confident and capable of keeping a medium-high speed growth and continuing to provide the world more opportunities while seeking its own development, he said.

In order to revive the world economy, Xi suggested to build an innovative world economy to generate new drivers of growth, to expand the scope of development, to forge interactive synergy and to strengthen the foundation for win-win outcomes.

The four-pronged proposals, as a profound explanation of the theme of the G20 Hangzhou Summit, namely "Towards and innovative, invigorated, interconnected and inclusive world economy", also shows the world that G20 is not only a group of 20 countries, but also one of the whole world.

As the development of the G20 has come to a critical juncture, good faith and immediate actions are required to transform the G20 from a crisis response mechanism focusing on short-term policies to one of long-term governance that shapes medium- to long-term policies, and to solidify its role as the premier forum for international economic governance.

In his speech, Xi urged the G20 members, together with the international community, to build a peaceful and stable international environment, build a new concept of common, comprehensive, cooperative and sustainable security, build a global partnership for win-win cooperation, build community of shared interests and destiny, improve global economic governance and build a new global economic governance based on openness, driven by cooperation and shared by all.

These proposals will also lay a new foundation for the global peace, stability and development and slate to make new contributions to the welfare of all human beings.