By Bai Yang from People's Daily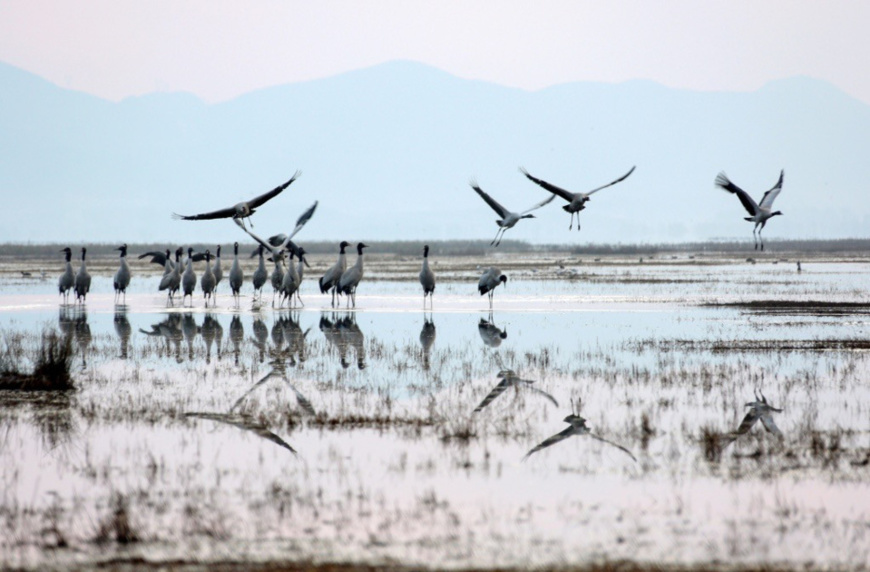 Migratory black-necked cranes are ready to fly north after wintering at the Caohai National Nature Reserve, a plateau wetland in southwest China's Guizhou province, Mar. 9, 2018. A good many migratory birds choose to live through winter at the reserve thanks to its well-preserved environment. (CFP photo)
China has authorized 15 provincial-level regions to draw ecological "red lines" for environmental conservation in February, and plans to complete the work in another 16 regions by the end of 2018, Huang Runqiu, Vice Minister of the Environmental Protection Ministry, told a press conference at the ongoing annual sessions of China's national legislature and top political advisory body.

The 15 provincial-level regions include Beijing, Tianjin, Hebei province, 11 provinces and municipalities along the Yangtze River Economic Belt, and the Ningxia Hui Autonomous Region in the upper reach of Yellow River.

The zones demarcated by the red lines cover a combined area of 610,000 square kilometers, or about a quarter of the total land area in the 15 provincial regions, according to Huang, also a member of the 13th National Committee of the Chinese People's Political Consultative Conference (CPPCC).

A total of 291 key ecological functional counties on the national list are within the red lines. The protected areas occupy over 40 percent of the total area.

The ecological red lines are set to put areas with special ecological functions under mandatory and rigorous protection.

The protected zones would be ensured not to be ecologically degraded, and their acreage would not be decreased, according to a 2017 policy document. Therefore, large-scale human activity and construction development are banned in the areas covered by the red lines.

China will make sure an overall improvement in the quality of the environment, the country pledged in its 2018 government work report.

With an aim to build a Beautiful China where the skies are blue, the land is green and the waters are clear, the country will reform and improve the system for ecological and environmental regulation and strengthen regulation over the use of natural ecological spaces, the report vowed.

Efforts will be redoubled to protect and restore ecosystems, and finish setting red lines for ecological conservation across the country, it added.

According to the schedule, the remaining 16 provincial-level regions will complete the drawing of their ecological red lines by the end of 2018 under the guidance of the Ministry of Environmental Protection and other departments. Then, a nationwide network of red lines will take shape.

National Development and Reform Commission (NDRC) has approved a construction plan of a national supervision network with a total investment of 286 million yuan ($45.18 million) to better protect the environment. The construction work has started and is due to complete by the end of 2020.

The platform will integrate satellite remote sensing and ground-based monitoring stations into a surface-to-air monitoring system for data collection, ecological risk assessment or human activity monitoring. Any act that will damage the ecological red lines shall be punished according to related laws and regulations.