By Zhang Huizhong from People's Daily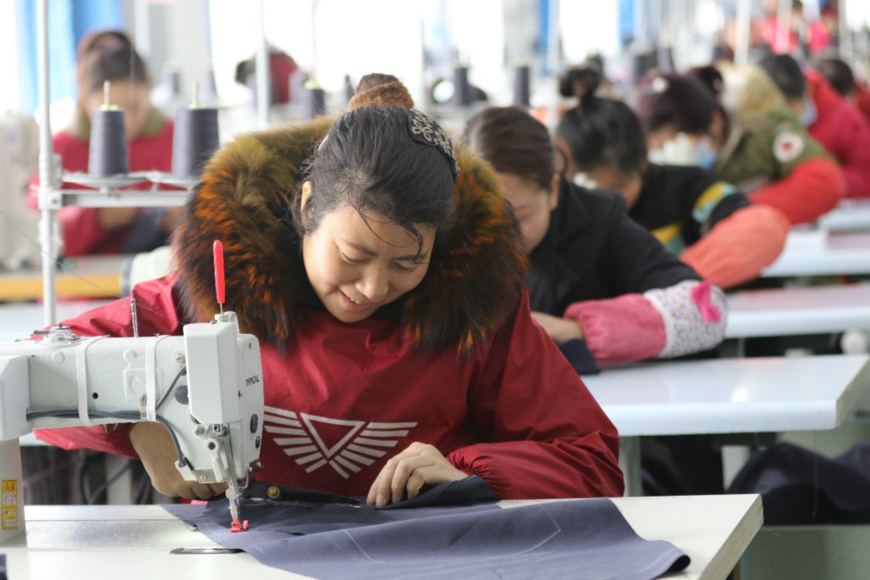 Left-behind women and poor migrant workers make down jackets ordered by customers at a poverty alleviation workshop in an industrial concentration area in Guangshan County, central China's Henan province, March 9, 2018. (Photo from CFP)
"We will not only win the 'battle' of targeted poverty alleviation, but also win it with flying colors." A Chinese official pledged at a press conference on the sidelines of the first session of the 13th National People's Congress on March 7.

Decisive progress has been made in China's poverty alleviation campaign since the 18th CPC National Congress, Liu Yongfu, director of the State Council Leading Group Office of Poverty Alleviation and Development, elaborated on the achievements made by China in the past five years.

By the end of 2012, the country had 98.99 million poor people, and by the end of 2017, that number dropped to 30.46 million, an annual decrease of 13.7 million, he illustrated.

In the same period, the annual net income growth of farmers in poverty-stricken regions was 2.5% higher than the national average.

He also shared China's experience in accelerating the progress by eradicating extreme poverty, using the opportunities brought by Belt and Road Initiative, stimulating endogenous impetus, making third-party evaluation and offering financial support.

Policies need to be rolled out to irradiate endogenous impetus and prevent the funds for feeding the lazy, Liu said, adding that training on poor population is required to improve their skills and capabilities to get rid of poverty, while an experience sharing is important as well.

Winning the "battle" of targeted poverty alleviation with flying colors has much higher gold content than just winning it, Liu pointed out.

"We have to make sure the task of poverty alleviation be completed to the fullest and no one will be left behind," Liu said, adding that such poverty reduction must be of high quality and it will be held to the test of time. He also pointed out that the campaign will continue even after 2020.

China, in its report to the 19th National Congress of the Communist Party of China (CPC), has made clear that the country "must ensure that by the year 2020, all rural residents living below the current poverty line will have been out of poverty".

Eliminating poverty, improving livelihoods and achieving common prosperity step by step has been regarded as an essential requirement for socialism with Chinese characteristics and an important mission of the CPC.

Chinese President Xi Jinping, who is also general secretary of the CPC Central Committee, first proposed "targeted poverty alleviation" when visiting Shibadong Village in Shuanglong Town, Huayuan County, Xiangxi Tujia and Miao Autonomous Prefecture in central China's Hunan province on Nov. 3, 2013, a place labeled "poor" at the time.

Ahead of the 2018 Spring Festival holiday, President Xi visited impoverished areas in Liangshan Yi autonomous prefecture and chaired a symposium on poverty alleviation in Chengdu, southwest China, during which he stressed the difficulty of the battle against poverty and the urgency of solving significant problems in poverty alleviation.

The battle against poverty should be firmly carried forward without any pause or slackness, the president said, stressing quality of poverty reduction work with a focus on areas in deep poverty.