By Huan Xiang from People's Daily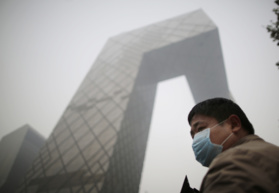 Beijing and its neighbors are now intensifying their efforts to ensure a cleaner sky by reducing the daily average density of PM2.5 to around 60 micrograms per cubic meter, a goal set by authorities for 2017.

The officials from the seven regions, namely Beijing, Tianjin, Inner Mongolia Autonomous Region, Hebei, Shanxi, Shandong, Henan provinces, gathered on Tuesday for the ninth meeting to coordinate their solutions to prevent the air pollution.

China's Minister of Environmental Protection Chen Jining said at the meeting that he had confidence to meet this year's target as long as pollution alleviation efforts continued.

China started its tougher measures over air pollution years ago. The State Council, in an action plan released in 2013, pledged to reduce the level of inhalable particulate matter in cities above prefecture level by at least 10 percent between 2012 and 2017, and to increase the days with good air quality as well.

More tightened steps will be taken in 2017 to realize the goal, according to the information released at meeting.

China's air quality usually deteriorates in winter since the coldness of the months means that more coal and other fossil fuels are burnt by individual homes as well as commercial businesses to keep themselves warm.

In order to lower the emissions in the peak seasons, the seven regions have steeped up efforts to reduce the use of coal, curb vehicle emissions, shut down polluted businesses and plant more trees.

The National Energy Administration, together with other departments, are compiling a plan to fight against the pollutants emission of winter days in northern China, with nine working groups have been sent to those regions for investigations.

To cut down the emission from diesel-powered trucks, another big pollutant, China's Ministry of Transport will also introduce a plan to optimize the transportation structure in Beijing-Tianjin-Hebei region by relying more on railways.

According to the plan, Tianjin port, one of the country's busiest ports, will completely put the brakes to coal transportation by trucks by the end of October, 2017, but encourage the use of railways and ships.

Beijing will also adopt an early plan in this year to forbid the diesel-powered trucks from entering the city's Sixth Ring Road, and incite a detour of transit trucks.

The supervision will be strengthened and more illegal cases will be exposed, leaving no space for the mendacious environmental protection, the meeting decided.

Chen also disclosed at the meeting the violators who did not shut down polluted plants as they claimed. According to him, by February 27, 18 working teams have found 1,043 violators after they inspected 2,152 local governments, departments and enterprises.

The minister added that they plan to divide the Beijing-Tianjin-Hebei region and its neighboring area into 3,200 small parts and start a more detailed check by using satellite monitoring. Beijing will extend its supervision to every corner of the city as well.