By Chen Xiaowei, Li Xiaoxiao, Zhu Dongjun from People's Daily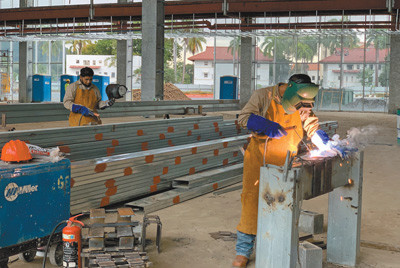 The Amador Convention Center, contracted by China Construction America affiliated to China State Construction Engineering Corporation (CSCEC), is located along the Amador Causeway in the southwest of Panama City, adjacent to Panama Canal estuary to the Pacific Ocean.

There was an interesting story behind CSCEC's entrance into the Panamanian market, said Jia Bing, manager of the Amador Convention Center project.

During a visit paid by Panamanian President Juan Carlos Varela to the Caribbean country Bahamas, a magnificent tourist resort he saw on the way to his hotel aroused his interest. After knowing that the constructor was CSCEC, the president invited the company to enter the Panamanian market.

The $193-million project covers a construction area of 65,000 square meters, and is divided into three major zones: a banquet hall, an exhibition hall and a lobby. It is the largest and fullest-featured convention center in Central America.

The building is expected to be put into service in April 2019. By then, it will be the new venue for the international trade fair EXPOCOMER.

International conventions and exhibitions, as well as tourism, can generate considerable earnings for Panama. As a result, the project has received great attention since the beginning of its construction.

Jia disclosed that the convention center, being able to house30,000 people, would host about 100 exhibitions in 2019, each lasting two to three days. These events are expected to create thousands of jobs for local people each year and generate $700 million annual revenue for the country.

The CSCEC adheres to the highest construction standards and multiple construction indicators have reached world level. The excellent technologies have won China Construction America a firm foothold in Panama.

A local engineer surnamed Arturo, who is in his late twenties, has worked for the Chinese company for over a year. He told People's Daily that the Chinese company respected local employees very much and offered them high pay and welfare.

"Many of my friends believe that it's a pride for them to work in a Chinese company," said Arturo.

According to Jia, the company has more than 700 construction workers, most of whom are locals. The company also strictly abides by local laws and regulations, and protects the interests of its staffs.

The project is a showcase of the Chinese technologies and construction speed, and has become the symbol of Chinese companies in Panama.

In less than one year after its entrance into Panama, China Construction America has won three bids, including the convention center, the San Isidro Bus Station project, and one of Panama's largest residential development projects, Ciudad de Esperanza, City of Hope in English.

The CSCEC projects were a pathfinder for China-Panama cooperation on Belt and Road, said Jia, adding that the company opened the Panamanian market and set a good example for joint construction of the Belt and Road.

China had advanced scientific technology and urban construction, said Arturo, expressing his expectation that China and Panama could increase bilateral exchanges and mutual learning.
"I hope that I can visit China as early as possible, and wish for closer ties between both China and Panama, and the two peoples," he said.