By Li Zheng, People's Daily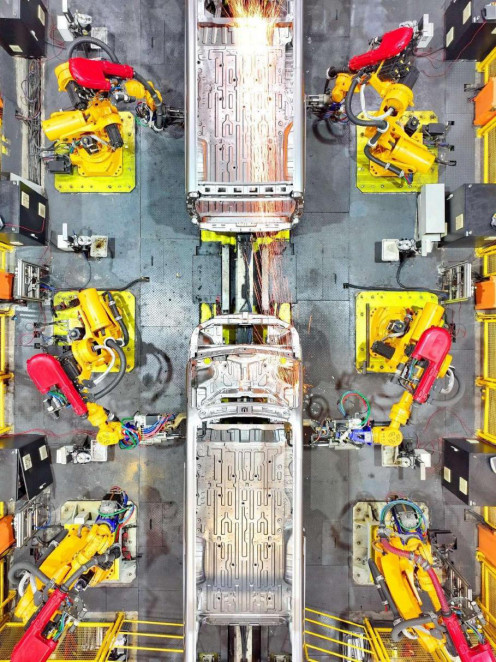 New energy vehicles are manufactured in a workshop of an enterprise in Ganzhou, east China's Jiangxi province. (Photo by Zhu Haipeng/People's Daily Online)
"Customers can get their cars delivered in only 10 days after placing an order on a mobile application," said the head of a workshop of Voyah, a luxury division of Chinese automaker Dongfeng Motor Corporation, in Wuhan, central China's Hubei province, explaining that Voyah has achieved customized and order-oriented production.

Voyah's production is driven by orders, which can eliminate the pressure of inventory costs. Customer can design their personalized high-end new energy vehicles (NEVs) on their phones - picking colors and configurations - rather than settling for an off-the-shelf model.

In the workshop, vehicles with different colors and models can be made on the same assembly line. This flexible production allows the brand to build customized cars that meet different preferences, forming a user-centered innovation model.

It shows the innovative power of this traditional automobile enterprise in its active transition to NEVs. With over 2,400 patents, the automaker has R&D personnel accounting for 36.5 percent of its total and stimulates the participation of employees in its shareholding.

Voyah fosters a culture of innovation and entrepreneurship. It has vigorously ventured beyond existing products into new markets against the pressure of transformation and upgrading, creating an atmosphere of hard work and an impulse to seek opportunities.

Fostering an innovative ecosystem is key to driving enterprise innovation. This requires a supportive environment with improving public services.

Across China, various measures have been taken to stimulate innovation in companies.

For instance, to assist technological advances, the Wuhan Economic and Technological Development Zone has built a comprehensive road network to facilitate the testing of intelligent connected vehicles. By linking the 5G communication network, digital space network and smart road network, it has enabled a favorable environment for NEV makers to innovate.

Additionally, to help researchers bridge the laboratory-to-market gap with high risk and cost, Huazhong University of Science and Technology pioneered a pilot-scale service platform. By providing resources to enterprises and reducing trial and error costs, the platform sparks enthusiasm for innovation.

Fertile soil nurtures beautiful flowers, and a supportive environment allows companies to thrive through innovation in niche fields.

In Wuhan, central China's Hubei Province, information technology company Bitland is working to build a complete and controllable computer supply chain system, continuously improving its independent production of components. Zhongxing Innovative Material Technologies Co., Ltd. has become a specialized and sophisticated small and medium-sized enterprise that produces lithium-ion battery diaphragms.

Enterprises are the most active cells in the market economy, with each firm acting as an engine of innovation. When companies in different industries spontaneously innovate, their collective efforts can generate the innovation potential of the entire economic system.

A new round of technological revolution and industrial transformation has spurred the growth of advanced, smart and green industries, which are crucial for industrial transformation and upgrading. Digitalization is empowering new industrialization and injecting powerful momentum into constructing a modern industrial system.

Companies like Jointown Pharmaceutical Group and Bestore Co., Ltd. have already built intelligent warehousing centers. Using QR code identification, their unmanned warehouses are able to automatically classify, sort, circulate and discharge massive items.

Innovation is thriving at the micro level, while macro development is driven by collective efforts. From a macro perspective, the Chinese economy is steadily recovering and advancing towards high-quality growth. This progress is made by countless enterprises innovating in their fields, intelligent production lines producing customized products on large scales, and workers striving for better lives.

What's more impressive than shining innovation outcomes is people's belief in the future. The vibrant vitality of countless entities ultimately coalesces into a tremendous force propelling macroeconomic development. This dynamism forms a solid foundation for confidence in the Chinese economy.