By Xu Leipeng, People's Daily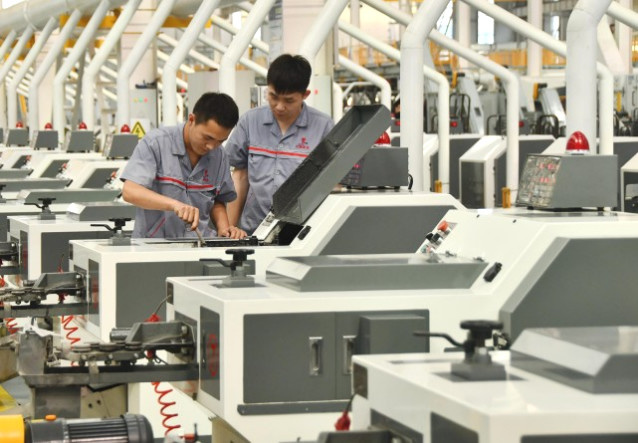 Workers manufacture fasteners in a workshop of an enterprise in Yongnian district, Handan, north China's Hebei province. (Photo from afastener.com)
Screws are unobtrusive, but they are indispensable to industrial production. They are used in the manufacturing of almost everything, from small articles of everyday use such as watches and mobile phones, to big and even gigantic items such as automobiles, high-speed rail and spacecraft.

Screws, which are also called fasteners, are known as "the rice of industry" in China. They are one of the most basic and commonly used types of machine elements, which are often seen in engineering, auto manufacturing, machinery manufacturing and aerospace industries.

China is a major producer of "the rice of industry."

Given the transformation and upgrading of the manufacturing sector, downstream industries have developed a higher demand for high-strength, high-performance, high-precision and high- added value fasteners over the recent years. The low-tech and low-quality development model that places little importance on products' added value and branding has become unsustainable.

The fastener manufacturing industry is thus facing a trend of upgrading. Many enterprises choose to embrace it with digital technologies and intelligent manufacturing.

Digitalization contributes to the management of enterprises. Digital technologies, when applied in enterprise' management, can optimize their operation and efficiency.

An enterprise specialized in the manufacturing of self drilling screws in Yongnian district, Handan, north China's Hebei province, has effectively lowered production cost and lifted products' quality via building digital and green workshops.

Another fastener manufacturer in Ningbo, east China's Zhejiang province has established a 24-meter-high warehouse that covers about 4,000 square meters, where shipping and stock inquiry are all automated. It now takes only 25 minutes for the manufacturer to load a twenty-foot equivalent, which is 30 percent faster that before.

Intelligent manufacturing also helps enterprises improve efficiency. It is a great tool for traditional enterprises to promote supply-side structural reform.

In a workshop of a new energy technology company in central China's Hunan province, manual labor is replaced by robotic arms, which shorten the time for processing embedded screw sleeves by 70 percent and lifts production capacity by 72 percent.

The Hunan-based company has made a series of innovations and breakthroughs assisted by a whole-process smart manufacturing system, which covers designing, purchasing, planning, production, quality control, enterprise management and warehousing and logistics. It now boasts the largest market share of embedded screw sleeves for the manufacturing of wind turbines.

The application of industrial internet makes it easier for upstream and downstream enterprises along the supply chain to find each other. An industrial internet platform has been set up in Ningbo to offer digital factory solutions for fastener manufacturers, help them strengthen information sharing and improve their R&D efficiency. Industrial internet, backed by digital technologies, makes the flow of data and other productive factors more efficient, and offers stronger support for enterprises in innovating products, business models and technologies.

The transformation of the screw manufacturing industry is a miniature of the digitalization of China's traditional manufacturing. Its experience proves that conforming to the trend of digitalization and promoting science-based and efficient digital transformation of traditional industries are crucial for energizing entities, shaping new competitive advantages and achieving high-quality development.

High-end fasteners enjoy broad prospects thanks to the rapid development of aerospace and major equipment manufacturing industries.

Screws, small as they may seem, can gain a foothold and improve their competitive edge in fierce competition and set an example for the high-end, intelligent and green development of traditional industries, as long as manufacturers face up to challenges and grasp opportunities with innovation.