By Wei Wei, People's Daily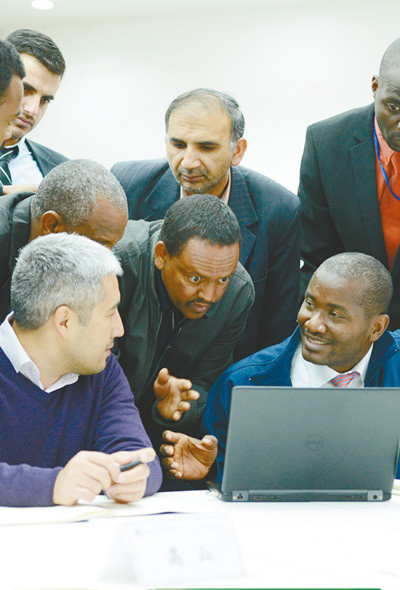 Another batch of students will begin their study in the Institute of South-South Cooperation and Development (ISSCAD) at Peking University (PKU) on Sept. 21. They come from different countries but share a same goal: to learn from China's development experience and explore a sustainable development path that suits their own countries.

After the enrollment of the third batch of students, the institute are expected to increase its student sources to nearly 50 countries.

The institute was formally established in April 2016 by China's Ministry of Commerce, PKU and the PKU National School of Development.

It was attended by 48 students from 27 developing countries for master's and doctor's programs in September 2016. This June, the second batch of postgraduate students have finished study at the institute and returned to their home countries.

In the past two years, the Institute has yielded outstanding achievements and provided the world with a new path to drive development by education.

"We had a lot of sleepless nights for study, and now the experience at ISSCAD seems so precious," said a student at the graduation ceremony of the institute's first batch of postgraduates on July 6, 2017.

At the graduation ceremony, Awan Andrew Guol Riak, Minister in the Office of the President of South Sudan read a thank-you letter to Chinese President Xi Jinping on behalf of all the graduates.

Xi also encouraged them to be leaders of reform and development in their own countries and a practitioner of global South-South Cooperation in a reply on October 11, 2017.

Talking about the gains in China, the South Sudanese Minister said he was impressed most by the concept of green development proposed by President Xi that says lucid waters and lush mountains are invaluable assets.

"We can feel the Chinese government's determination to curb environmental pollution. South Sudan is rich in oil and gas and such resources are untapped treasures. I hope to learn from China and integrate economic development and ecological protection," said the Minister.

In addition to the most cutting-edge courses, the institute also organized trips for the students to metropolises such as Beijing, Shanghai, Guangzhou and Shenzhen. They visited Zhejiang and Henan provinces to learn China's efforts in poverty alleviation.

The research route echoes the development of China's reform and opening up, from the development of traditional manufacturing, to high-tech industries and internet companies, enabling the students to have a clear picture of each process of China's modernization.

Derrick Sibeso Wina from the Ministry of Labour and Social Security of Zambia delivered a speech as a student representative at this year's commencement, saying that "the Chinese government and its people have done their part for us, but it will come to nothing if we don't apply what we learnt here to our national construction and the development of human beings."

"Many of us wish to stay a little longer," said Wina, "but only by going back can we construct our countries as beautiful as China."

"We have summarized the development experience of China and other developing countries into theories that can be referred by other developing countries to formulate policies based on their actual conditions," said Justin Yifu Lin, Dean of ISSCAD and Honorary Dean of the National School of Development at PKU.

The major feature of the ISSCAD is to formulate educational plans based on the conditions of developing countries and the level of development of each country so as to jointly improve the efficiency and capacity of development, Lin introduced.