By He Yin, People's Daily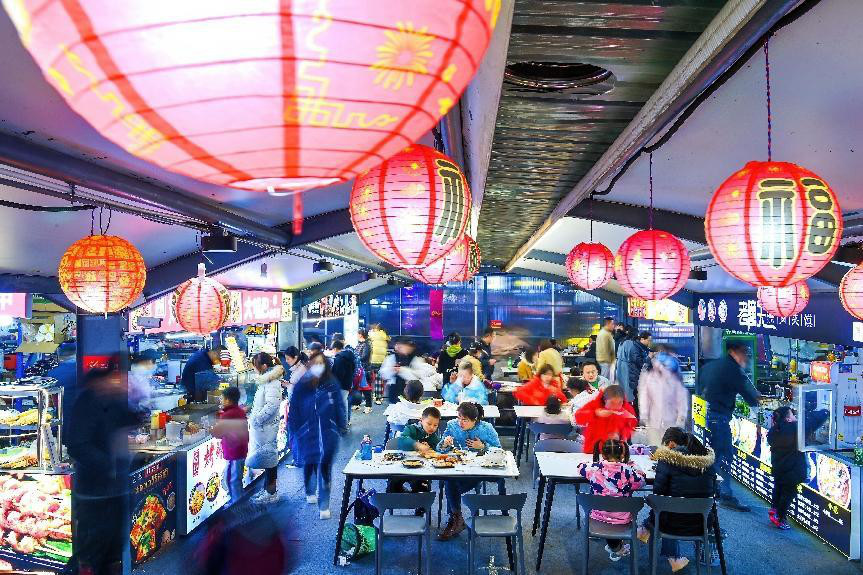 Photo taken on Feb. 24, 2023 shows a lively night market in Sucheng district, Suqian, east China's Jiangsu province. (Photo by Chen Shaoshuai/People's Daily Online)
The governance of a country starts with the needs of the people.

Chinese modernization is the modernization of common prosperity for all. Achieving common prosperity for all is one of the essential requirements of Chinese modernization, as well as a hallmark that distinguishes Chinese modernization from Western modernization.

Chinese modernization remains committed to the principle that development should serve the people, depend on the people, with its benefits shared by the people. It provides a Chinese solution for tackling polarization and other challenges in modernization.

To strive for a good life for the people and achieve common prosperity for all is an abiding commitment of the Communist Party of China (CPC).

The CPC has promoted coordinated development across regions, adopted effective measures to improve people's wellbeing, won the battle against extreme poverty and built a moderately prosperous society in all respects. These efforts have created conditions conducive to bringing about common prosperity.

As the world's largest developing country, China has met the poverty eradication target set in the United Nations 2030 Agenda for Sustainable Development ten years ahead of schedule. It has set an example and made significant contributions to the cause of global poverty reduction.

For China, a huge country with more than 1.4 billion people, to achieve common prosperity for all is a long-term, complex and onerous task. The country will continue commitment to its people-centered philosophy of development and promote common prosperity through high-quality development.

So far, China has formulated a whole set of ideas, institutions and policies to promote common prosperity for all. It is confident in ensuring that its people share more fully and fairly in the gains of modernization.

Shakeel Ahmad Ramay, director of the China Study Center at the Sustainable Development Policy Institute of Pakistan, said that promoting common prosperity, creating more opportunities for more people to become better-off and making every effort worthwhile will further activate the productivity and creativity of the Chinese society.

Common prosperity is a challenging task in the development of human civilization. While pursuing modernization, some countries have encountered severe economic polarization and collapse of the middle class, which led to social divide, political polarization and rampant populism; some failed in economic transition and came to stagnation, troubled by the middle-income trap.

China takes meeting the people's aspirations for a better life as an immutable goal of its modernization drive. It will endeavor to maintain and promote social fairness and justice, bring prosperity to all, and prevent polarization.

"The common prosperity we have in mind aims to better meet people's needs for a better life. It aims to achieve, over time, overall prosperity and prosperity for all. We will leverage the role of both the market and the government and ensure both performance and fairness. We will make the pie bigger and share it fairly, and build an olive-shaped structure of income distribution," said Chinese President Xi Jinping in a written speech delivered at the APEC CEO Summit last year.

More and more international personages have come to realize that as economic globalization encounters headwinds and Western modernization sees a bottleneck, Chinese modernization focuses on benefiting the people and is committed to social equity. It has blazed a new trail of modernization.

China's efforts to achieve common prosperity for all mark the beginning of the country's endeavor to reach the greater goal of building a community with a shared future for mankind, said Paul Zilungisele Tembe, senior researcher with the Thabo Mbeki African Leadership Institute under the University of South Africa.

China always believes that only when countries develop together can there be true development; only when countries prosper together can there be true prosperity.

While pursuing its own development, China is constantly working for the common prosperity of the world with concrete actions.

So far, China has signed Belt and Road cooperation documents with 151 countries and 32 international organizations. The high-quality development of the Belt and Road Initiative is bringing tangible benefits to the people in participating countries.

To make global development more balanced, China proposed the Global Development Initiative, which has been supported by over 100 countries and international organizations.

On its way to modernization, China stands ready to provide more resources for global development cooperation and work with all other parties to build a global community of development, so as to make broader prospects for the common development of mankind.

Achieving common prosperity involves a long historical process and calls for perseverance. On a new journey, China will strive to achieve shared prosperity for everyone, which will surely provide new development opportunities for the rest of the world and see that the gains of development benefit all peoples in a fair way.