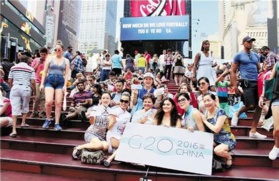 By Bai Long from People's Daily

Among the numerous agendas of September's G20 Hangzhou Summit, governance is the one that needs most to achieve breakthroughs. By including "interconnection" in the four key words of the theme, the summit aims at providing workable proposals to global governance.

China's role in the G20, as the most representative global economic governance system, is more important now. Some Westerners admitted that when emerging economies, including China were invited to attend the first G20 Summit in 2008, the Western countries took them as token guests.

But things are different now. As the rise of emerging countries goes on and changes in the international political and economic landscapes, especially amid a slowdown in world trade, investment and economic growth, China is transforming from a participant in the G20 to one of its leaders.

From the "Belt and Road" initiative to the Asian Infrastructure Investment Bank and the Silk Road Fund, China has deeply involved itself in global economic governance in recent years. Now the world is expecting China to continue to play its "engine" role and build a more fair and reasonable global political and economic order.

"The Chinese summit could well be the rebirth of not just of the G20, but the rebirth of real cooperation," former Canadian Prime Minister Paul Martin, also referred as the "Father of the G20," said last October.

Many international figures have realized the importance of G20 in curbing the retrogression of globalization. With its sphere beyond sovereign states, globalization put an end to the era of developing on one's own or with one or two alliances. A number of challenges in today's world require joint efforts.

At present, the world economy is suffering from a headache with a lack of support from emerging industries and insufficient growth impetus. These defects were caused by deep-layered maladies such as the absence of a coordinated and fair system as well as long-term plans under the globalization background.

The Western-centered coordination mechanism is no longer applicable to current multi-polarization trend, which is why the international community calls on China to contribute more to global governance as a responsible major country.

To achieve the goal of global development, China has placed the most emphasis on developing countries in the G20's history by inviting presidencies of the ASEAN, the African Union, and the New Partnership for Africa's Development and representatives from the G77 to the Hangzhou Summit.

Meanwhile, the working group also drafted a code of conduct based on previous experience, further showcasing the G20's aspiration to create more just and reasonable rules.

All sides should make coordinated efforts in accordance with their national conditions to build a new model of international relations with win-win cooperation as its core and realize fairer and more effective global governance. In this regard, China has assumed its due responsibility as a major country.

In 2015, though global trade witnessed double-digit negative growth, China's share of global trade increased from 12.2 percent to 13.8 percent. Moreover, dedicated to lifting millions of impoverished rural residents out of poverty, China continued its efforts in helping developing countries implement the 2030 Agenda for Sustainable Development by setting up an aid fund for South-South Cooperation and boosting its investment in the world's least developed countries.

Today's world has become an inter-dependent community of common destiny for mankind. Only interconnected coordination can drive the world development. If the global community can take the Hangzhou Summit as an opportunity to fully absorb "Chinese proposals," the G20 will surely further improve its governance structure and strengthen its long-term governance capacity so as to truly build a dynamic global governance system.