Source: People's Daily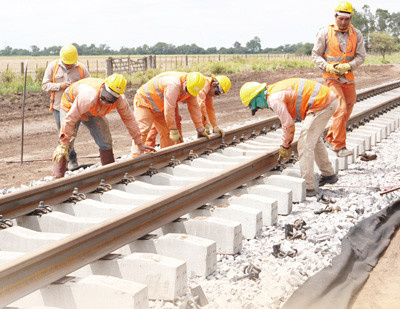 Renovation construction site in Salta province section of the Belgrano Cargas cargo railroad in Argentina. (Photo by Wang Di from People's Daily)
Atop the remote Patagonia region in southernmost Argentina, two hydroelectric dams co-contracted by a consortium comprised of Chinese engineering and construction conglomerate Gezhouba Group and Argentine businesses are under construction in full swing.

The Condor Cliff and La Barrancosa dams built along the Santa Cruz River are also the largest engineering project Argentina has ever seen in history.

The cooperation in building the two dams is based on a deal inked at the witness of two heads of state when Chinese President Xi Jinping paid a visit to the South American country in 2014, during which he witnessed agreement signing and commencement ceremonies of multiple big cooperation projects and placed a hope on football cooperation.

Argentine President Mauricio Macri has, on multiple occasions, expressed his gratitude for China's generous support in infrastructure construction, financial stability and economic reforms, and extended a welcome hand to China's investment in ports, railways, roads and agriculture in Argentina.

Once the hydroelectric complex in southern Santa Cruz Province completed, it will be able to boost the nation's power supply by 6.5 percent with an estimated annual electricity production of nearly 5 billion kilowatt-hours (kwh), which is enough to power 1.5 million households.

By then, Argentina will not only save about $1.2 billion in oil imports each year, but also be able to export electricity to its neighbors like Brazil and Paraguay.

Just like the hydroelectric project that combines the advantages of both Chinese and Argentine companies, a raft of Chinese engineering contractors and equipment manufacturers are expanding partnership in Argentina.

With over 80 percent employees from local community, they have created 5,000 jobs directly, and nearly 20,000 positions indirectly for the South American country, and also driven the rapid growth of local industries such as steel, logistics, catering and airport.

"We are lucky to form a consortium with a Chinese company. The technology and financial support provided by China will help optimize local infrastructure," said Sergio, a member of the project's executive committee.

"This is one of the best gifts Argentina receives from China," added the 64-year-old man who has visited China for many times.

A series of other projects Xi witnessed in his Argentine trip in 2014 are also in smooth progress, portraying the closer economic and trade cooperation between the two countries.

The renovation project of Belgrano Cargas cargo railroad, which Xi attended its opening ceremony via a video link in his 2014 trip, will be completed by China Machinery Engineering Corporation in 2019.

As one of three strategic state-run rail lines in Argentina, the Belgrano Cargas cargo railway connects the country's northern agricultural heartland with leading distribution or export hubs. The network, whose construction began in 1876, is of vital importance for the South American country known as the "granary of the world".

But due to insufficient investment, the railway spanning over 7,000 kilometers was aging and outdated, with only hundreds of kilometers in fine conditions.

After the rail line is reactivated, the grain from Salta province in northwest of the country can arrive in the eastern exporting hub of Rosario in a day, far less than the previous one week, said You Haibin, chief engineer of the project on the Chinese side.

Chinese equipment, technologies and capital have reinvigorated Argentina's railway network, said railway technician Ariel Espinoza. From a family dedicated to railway work for four generations, he has special intimacy towards the rail line.

"We also expect the Chinese companies to help us upgrade the passenger lines after revamping the freight railway. I feel lucky as our generation can engage in the revitalization of Argentina's railway network thanks to China." Espinoza added.

A group of Chinese teenager football players began their 30-day training in national football training base of Argentina in Buenos Aires on Wednesday, as part of football cooperation plan between the two countries.

The activity allows young Chinese players and their coaches to have professional training and matches in the national base, and receive guidance from Argentine coaches.

This is the first time for the national training base, cradle of many great players including Diego Maradona, to open all facilities to players outside of Argentina.

"We will enhance cooperation with China and offer a support to its football dream," said Argentina Football Association (AFA) president Claudio Tapia, pledging that in the future, more Chinese football players will be invited to Argentine clubs for training.