By Liu Junguo from People's Daily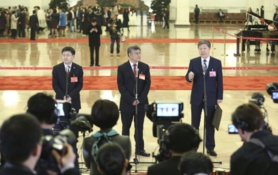 A special "delegates' passage" was set up by the ongoing 19th National Congress of the Communist Party of China (CPC) for the representatives to answer questions from reporters to present the world a more open and transparent China.

The CPC is offering this great event to the domestic and foreign press, as well as to people around the world with a broad mind and open attitude, analysts said, adding that the passage is one aspect of such transparency.

19 grass-roots Party representatives met with the press at the passage before the 19th CPC National Congress opened on Wednesday.

Among them were Jing Haipeng, an astronaut who has been on three Chinese space missions; Zhang Ruimin, CEO of Chinese home appliance giant Haier, and a Tibetan obstetrician surnamed Tsering.

Though working on different fronts, all of them impressed the world with confidence and openness. They willingly fielded questions from journalists.

The new passage grabbed headlines. It not only offers the media a face-to-face conversation with the delegates, but also reveals the increasing transparency of the CPC National Congress, analysts said.

The "delegates' passage" is not only a window for the world to observe China's development, but also shows the confidence and broad mind of the CPC as a party of a major country, a web user surnamed "Mengjie" said.

Overseas experts also praised the passage. "The 'delegates' passage' is an innovative practice," said Luigi Gambardella, President of ChinaEU, a Brussels-based international association promoting business ties between the two.

After watching the opening ceremony of the 19th CPC National Congress, he told the People's Daily that media interviews at the passage have no doubt opened a new information channel, adding that it also provided the audience with the delegates' perspectives on the event.

The innovative approach has generated results, said Marcel Marsal, a former journalist of La Voix du Nord.

"It helped us understand the ideas of grass-roots Party members and the great performance of the elite from each profession," he said, adding that their speeches have demonstrated the vitality of China.

The passage will help introduce a real China to foreign audiences, as many from the Western media are not reporting China with an objective attitude, Marsal said, calling for a repeat of the model at other events.