By Yang Junfeng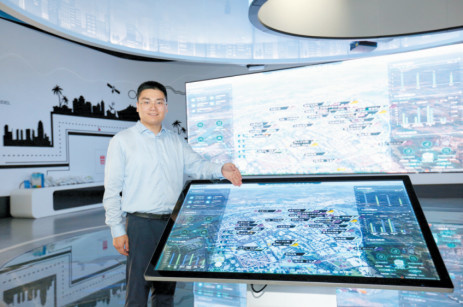 A staff member introduces a digital twin platform of the Yazhou Bay Science and Technology City in Sanya, south China's Hainan province. (Photo from the publicity department of Sanya)
A digital twin is a digital representation of a physical object or process. It builds a bond between the real and virtual worlds.

In today's China, the digital twin technology is empowering various booming industries, such as digital transportation, smart city and environmental protection, making economic and social development more intelligent.

A new expressway currently under construction in east China's Anhui province has utilized digital twin technology from its inception. A virtual version of the expressway is being built concurrently as construction progresses.

"As the first intelligent expressway in Anhui, it incorporates emerging technologies to construct an underlying digital twin model," said a representative from Anhui Transport Consulting & Design Institute. It allows real-time collection of vehicle movements, weather and other multi-dimensional traffic data, and thus enables precise monitoring and management of the expressway.

According to the representative, digital twin technology is expected to enhance the traffic efficiency of the expressway, bolster its whole-process emergency response capabilities, and reduce the duration of closures resulting from adverse weather conditions.

Insiders believe that the evolution and application of digital technologies are leading to more efficient and intelligent transport solutions. In the near future, the Chinese highway network will be highly digitalized, with the rising of a trillion-yuan ($136.7 billion) digital economy market related to highways, injecting new momentum into the transportation sector to advance Chinese modernization.

The rapid development and wide application of digital twin technology have generated new ideas for urban planning, construction, governance and management.

In Yazhou Bay Science and Technology City (YZBSTC) in Sanya, south China's Hainan province, a new smart industrial park is under construction. Built by iFlytek, a leading artificial intelligence (AI) company, this industrial park utilizes digital twin technology and has constructed an information model by modeling relevant spatio-temporal data, thus supporting various application systems.

"Leveraging AI algorithms and the digital twin platform, we have completed the upgrading from collecting data of single units to sourcing big data of the whole YZBSTC. Digital innovations make urban development and planning manageable, controllable and visible," said an executive of iFlytek.

Today, Chinese cities are on a "fast lane" in terms of digital twin development.

Suzhou in east China's Jiangsu province has collected comprehensive and high-precision data on its ancient architectures, providing support for protection and restoration efforts. The Xiong'an New Area in north China's Hebei province has synchronized virtual and real urban planning and construction.

Experts believe building a digital twin of a tangible city would enable more efficient urban management, and facilitate the city's sustainable development.

During a 2023 Yellow River flood control drill, a "digital Yellow River" "flowed" rapidly on a panoramic digital twin platform, displaying hazard distribution that could be caused by extreme weather. This platform showed clearly the flood progression and damage in shoal areas, with an aim to improve flood control efficiency.

Wu Dan, deputy director of the information engineering center of the Yellow River Laboratory's digital twin team, explained that constructing a digital twin is crucial for intelligent governance of the Yellow River basin and will comprehensively enhance the capabilities to ensure water security across the basin.

Digital twin technology has also provided technical support for environmental protection in Zhejiang province.

This May, in a 1,800-meter altitude alpine wetland in Baishanzu National Nature Reserve, a pair of Chinese spot-billed ducks foraging were captured by cameras. Location, meteorological and hydrological data were soon transmitted back to the system via Internet of Things monitoring devices and a digital twin platform.

"It marked the first time that Chinese spot-billed ducks were spotted at such a high altitude since the nature reserve was established, providing valuable insights for experts studying the animal's migration patterns and habits," said Ye Lixin, an engineer of the nature reserve.

Experts believe that digital twin technology has broad application prospects in ecological conservation. It not only offers scientists more tools to research and safeguard the natural environment, but also helps government agencies and related businesses strike a better balance between economic growth and environmental protection.