By Feng Xuejun, Zheng Bin from People's Daily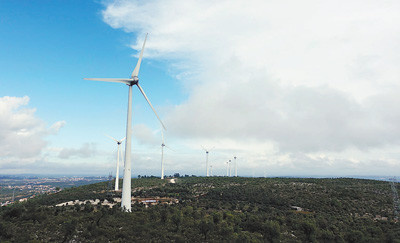 The photo shows a set of electric generator of Parque Eoloco de Bairro wind farm, a power plant co-constructed by Energias de Portugal (EDP) and China Three Gorges in Portugal. (Photo by Feng Xuejun from People's Daily)
Energias de Portugal (EDP), an integrated generator, supplier and distributor of electricity in Portugal, has regained vitality after choosing China Three Gorges Corporation as a long-term cooperation partner.

Parque Eoloco de Bairro wind farm, the power plant co-operated by EDP and China Three Gorges, is capable of now generating a capacity of 65,000 megawatts each year. Situated over 130 kilometers north to Lisbon, Capital of Portugal, the farm has 11 windmills standing on the mountain ridge.

As one of Europe's major electricity operators, EDP contributes nearly 10 percent to Portugal's GDP each year. Due to the impact of European debt crisis, EDP encountered operational difficulties.

During the debt crisis, Chinese companies showed their firm confidence in Portugal's economic prospects and engaged into local economic construction with concrete actions, said Manuel Cabral, former Economic Minister, expressing Portugal's gratitude to China.

Facts have proved that Chinese companies are trustworthy long-term cooperation partners, he added.

In their cooperation over the past years, China Three Gorges and EDP launched a series of power projects in Portuguese-speaking countries and also contracted upgrade projects of smart grid systems in many Chinese cities.

Due to the cooperation, EDP has resumed its financing environment to a pre-crisis level and brought its share price to a record high in a decade. Its corporate credit rating has also been upgraded to a stable outlook.

The company's net profit also hit its highest record reaching 1.113 billion euros in 2017 from the outbreak of the sovereign debt crisis.

The partnership also made EDP one of the leading companies in Southern Europe that restored financial stability by issuing corporate bonds.

"Thanks to Chinese company for keeping us in Portugal," Antonio Mexia, CEO of EDP, told the People's Daily, explaining that several major energy corporations from Germany, France, Spain and Brazil proposed cooperation intentions when EDP decided to sell part of its stocks, but they chose the Chinese partner out of a string of concerns.

European corporations desire to split or restructure the companies they acquire, or quit local market out of considerations on short-run investment returns, he added, saying that Portuguese corporations suffered a similar painful lesson before.

Chinese companies meet the development appeals of EDP better with a more far-sighted strategic vision, which give more priority to industrial investment and layout in the long run, Mexia explained the reasons on their final choice.

Wu Shengliang, Executive Vice President of China Three Gorges International and President of the Chinese firm's European branch, said that though EDP was trapped in trouble by European debt crisis, there is no trouble with its power technologies or company management.

The cooperation didn't lead to a split of the Portuguese partner nor a change of management team, which won the supports of EDP, added Wu.

The cooperation between Portugal and China is promising due to a natural complementarity between the two countries, Mexia stressed, adding that trust serves as the footstone for long-lasting cooperation between Portuguese and Chinese firms.

But such trust needs to be testified by times rather than being accomplished at one kick, he added, bilateral trust is like wine--the older the better.