By Liu Xuxia, Jiang Bo, and Han Xiaoming from People's Daily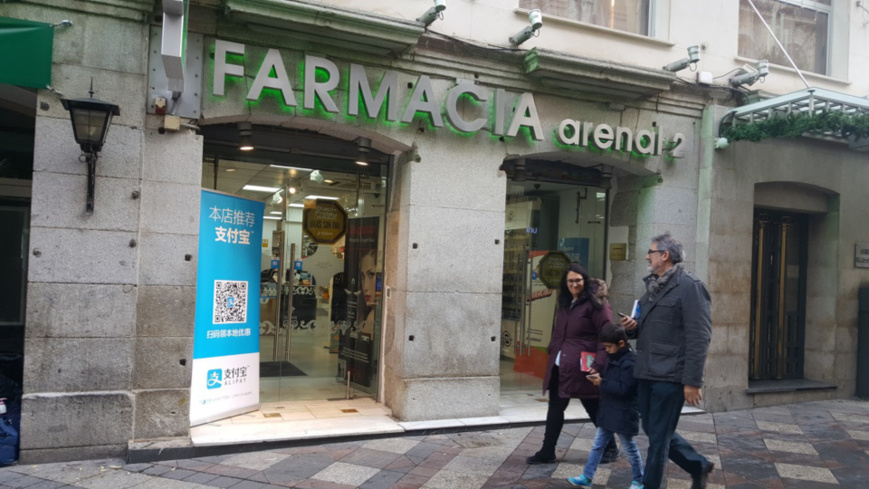 China and Spain, located at the east and west corners of the Eurasia respectively, have enjoyed inseparable economic ties under the framework of the Belt and Road Initiative.

Spain is China's sixth largest trading partner in the European Union (EU), and China is the largest trading partner of Spain outside the EU. Last year, the trade volume between the two countries reached $30.94 billion, an increase of 7.5 percent year on year.

The enhanced China-Spain economic and trade cooperation has strongly boosted economic development of the two countries.

Spain, who has long been referred to as the "vegetable basket" of Europe and ranks second in EU in terms of agricultural land, is the third largest exporter of vegetables and fruits in the world.

With high-quality agricultural products, such as pork, olive oil, wine, beer, Spain is undoubtly an important source of China's imports of fresh food.

"I had no idea that our ham could be so popular in China that our booth was crowded by people who are interested. We have every confidence in the Chinese market, and we believe that many companies will benefit from China's development," said Daniel de Miguel, international manager of Spanish pork association InterPorc Spain, at the first China International Import Expo (CIIE).

The CIIE offered an excellent opportunity for Spanish companies to showcase themselves, he said, adding that the Spanish brands had attached great importance to the Chinese market while pursuing internationalization.

Spain was the first European country to confirm its attendance at the first CIIE, said Lyu Fan, Chinese Ambassador to Spain.

In January, the China International Import Expo Bureau under the Chinese Ministry of Commerce, jointly held a road show with Spanish Confederation of Employers' Organizations in Madrid, and many Spanish firms signed up for the event at the official website of CIIE immediately after the show, the ambassador disclosed.

Comprised of 49 companies, the Spanish team of exhibitors at the first CIIE was fully equipped. Covering an exhibition area of 1,250 square meters, these companies showcased a variety of goods including food, garments, consumer goods, intelligent and high-end equipment, emerging technologies and logistics services.

The first CIIE was an important opportunity for Spain to expand exports to China, expressed Enrique Fanjul, former Commercial Counselor of Spain in China, saying that expo increased Spain's attention to the Chinese market, and helped Chinese consumers know the high-quality products and services of Spain better.

In the "Double 11" shopping festival in China, Spain ranked the second, following Russia, among all countries in terms of the number of orders made by foreign consumers via AliExpress, a Chinese e-commerce conglomerate Alibaba's online global retail platform.

Compared with those of the previous year, the categories of products sold to the Spanish market rose by 250 percent, with hot sellers expanding from luxury fashion brands to furniture, 3C products, and home appliances. Meanwhile, the amount of online shops owned by local people in Spain doubled during the event.

Chinese e-commerce platforms have taken root and developed vigorously in Spain, enjoying continuous growth in market share. Today, with over 7.7 million registered users in Spain, AliPress is the biggest cross-border e-commerce platform.

The rapid development of Chinese e-commerce platforms in Spain has created more and more opportunities for Spanish products to be exported to Chinese market.

Inditex, a Spanish multinational fashion group, has seen an accumulative total of around 10 billion yuan (about $1.44 billion) in volume of business since the opening of flagship stores for its seven brands at Alibaba's B-C online shopping website Tmall.com in 2014.

In 2016, JD.com, a well-known Chinese e-commerce company, signed a cooperation agreement with Spanish Institute of Foreign Trade (or ICEX), bringing Spanish enterprises selling agricultural products to the online market of China.

From 2015 to 2017, Spanish fresh products have created an annual growth of 120 percent in sales at Tmall.com.

If a mother in Madrid wants to surprise her children during holidays, she could just place an order with a mobile phone, and then get fine toys delivered from China in a few days, said Juan Pablo Lázaro, vice president of the Spanish Confederation of Business Organizations.

China's e-commerce development was amazing, Lázaro expressed, adding that Chinese e-commerce platforms helped to bring more Spanish products to Chinese market faster, and at the same time madeSpanish consumers buy goods from China and around the globe conveniently.

The rapid development of Chinese e-commerce platforms meant huge market and benefits to both Spanish people and Chinese People, said Lázaro.