By Yang Wenming, Li Maoying, People's Daily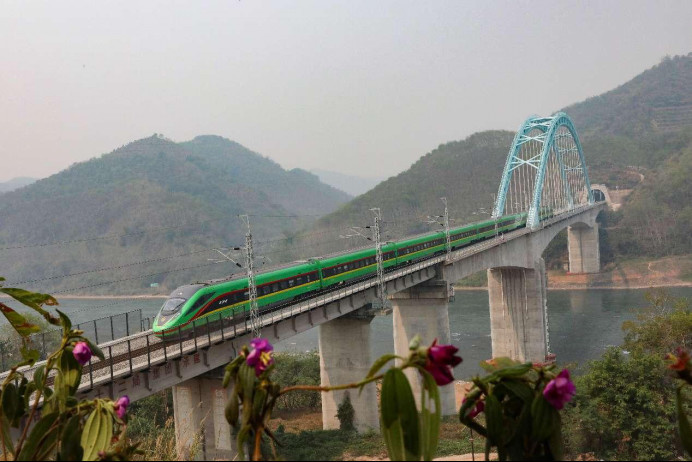 A train from Kunming, capital of southwest China's Yunnan province, to Vientiane, capital of Laos, passes over a bridge along the China-Laos Railway in Jinghong, Xishuangbanna Dai autonomous prefecture, Yunnan province. (Photo by Li Yunsheng/People's Daily Online)
The seventh China-South Asia Expo, themed "Solidarity and Coordination for Common Development," kicked off on August 16 in Kunming, southwest China's Yunnan province.

The five-day expo features 15 exhibition halls and 14 activities, covering all South Asian and Southeast Asian countries as well as member states of the Regional Comprehensive Economic Partnership (RCEP).

Since its inauguration in 2013, the China-South Asia Expo has been permanently settled in Kunming. It has grown into an important platform for economic and trade cooperation between China, South Asian and Southeast Asian countries over the years.

An international trade enterprise cluster park of China (Yunnan) Pilot Free Trade Zone has already attracted 24 human resource companies. Chang Jixing, head of the human resources and social security bureau of Guandu district, Kunming, visits the park every day.

"Since international trade is expanding with each passing day, we must make plans for foreign trade talents beforehand," Chang said.

A few days ago, a business delegation from Sri Lanka visited the park. Attracted by the huge potential of the Chinese market, visitors kept asking questions to the executive of the park, in an attempt to cooperate with Chinese companies with Sri Lankan jewelry and black tea.

When experiencing livestreaming in the park, members of the delegation were full of praise for the brand-new studio, which is brimming with ethnic decorative elements and equipped with advanced facilities.

"The China-South Asia Expo is not only a stage for us to display commodities, but also a platform for us to make friends with Chinese foreign trade companies," a member said.

On August 4, the first batch of 59 exhibits of the expo entered the exhibition halls under the supervision of local customs officers.

"All the exhibits of this year's event were declared through integrated national customs clearance procedures, which has reduced logistics costs for enterprises and ensured quick customs clearance and on-time display," said Fu Yu, customs declaration manager of Yunnan Easy-trans International Freight Forwarder Co., Ltd.

In 2013, when the first China-South Asia Expo took place, the total trade value between China and South Asian countries was less than $100 billion. In 2022, the figure approached $200 billion, representing an average annual growth rate of 8.3 percent in ten years.

China has been the largest trading partner of Pakistan, Bangladesh, Maldives and other countries for many consecutive years.

Many products from South Asian countries, including aquatic products, tea, and nuts, enjoy great popularity among Chinese consumers, with exports to China continuously rising.

In January 2018, representatives of China and Sri Lanka jointly pressed the launch button, marking the official completion and delivery of the Moragahakanda Dam. Undertaken by PowerChina Sinohydro Bureau 14 Co., Ltd., this dam is Sri Lanka's largest water conservancy hub project.

Previously, the surrounding areas of the dam frequently suffered power outages and flooded farmland during rainy seasons. Since the dam was built, the locals have enjoyed a stable electricity supply and seen continuous improvement in their lives.

The Moragahakanda Dam epitomizes how China-invested projects have contributed to the development of South Asia. According to the latest data from China's Ministry of Commerce, by July 2023, China's cumulative investment in South Asia reached nearly $15 billion, and the turnover of completed projects contracted by Chinese companies in the region exceeded $200 billion.

The opening of the China-Laos Railway has made railway transportation more convenient, while aviation and other comprehensive transportation networks have become increasingly smooth.

In an effort to better serve foreign participants in the China-South Asia Expo, China Eastern Airlines launched a new air route linking Kunming and Kathmandu, Nepal, further strengthening exchanges between China, South Asian and Southeast Asian countries. It also increased the frequency of flights between Kunming and Bangkok, capital of Thailand, as well as flights between Kunming and Colombo, capital of Sri Lanka.

China and South Asia accounted for one-fifth of the world's total economy, representing one of the most fastest-growing and dynamic regions in the world with active trade and investment, and enormous potential for cooperation.

Under the framework of the Belt and Road Initiative (BRI), the China-Pakistan Economic Corridor project is moving forward steadily, the Gwadar Port in Pakistan and the Hambantota Port in Sri Lanka have driven the upgrading of local industries, and cooperative projects such as the airport reconstruction and expansion projects in Nepal and the Maldives have gained results.

These projects vividly show China's tangible contributions to the development of South Asian countries and regional connectivity.

China and South Asian countries have firmly stood together, helped each other and overcome difficulties in solidarity, no matter in the face of natural disasters like earthquakes and tsunamis, or global challenges such as international financial crisis and the COVID-19 pandemic.