By Liu Zhonghua, Guan Kejiang, Li Meiyi from People's Daily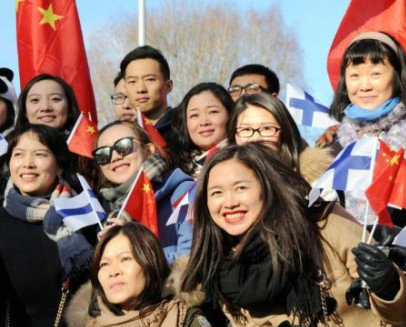 The state visit of Chinese President Xi Jinping to Finland marks the excellent state of bilateral relations and further deepens the diverse cooperation between China and Finland, Finnish Prime Minister Juha Sipilä hailed the significance of the successful trip in a written interview with the People's Daily on Thursday.

"We are honored that President Xi visits Finland during the centenary year of Finland's independence," Sipilä said, adding that both sides, during the visit, have an opportunity to exchange views on a number of significant bilateral and global issues.

Important agreements and memoranda of understanding are signed to further deepen bilateral cooperation as well, the prime minister pointed out.

"I am sure our diverse cooperation will continue to broaden and deepen," he stressed.

"The future-oriented new type cooperative partnership enhances political mutual trust and expands and deepens cooperation to the benefit of our two peoples," Sipilä emphasized.

The partnership, according to him, covers topics of mutual interest and areas where both countries want to reinforce cooperation in issues where they can find common solutions to concerns.

He cited the areas such as innovation, entrepreneurship, clean energy, bio-economy and arctic research Xi mentioned in an article published ahead of his Finnish trip as examples, believing that these are excellent base for enhanced cooperation between both countries.

Describing high-level political visits as a very important way to exchange views and ideas both bilaterally and in the EU-China context, Sipilä stressed the necessity for both nations to maintain contacts at the level of parliaments, officials, and other spheres of the society.

"Moreover, I think there is still a lot of untapped potential in our trade and investment relations," he said.

"In today's changing world, we do need a regular dialogue on many global issues, too, such as climate change and sustainable development," the prime minister added.

Sipilä said that three points impressed him most after he had a chance to read the article entitled "Our Enduring Friendship" published on Finnish media Xi wrote before he started the trip.

He explained that they were the long history of bilateral relations that have been only strengthening throughout the decades, the importance of bilateral trade, investment and tourism relations, as well as the strong support from Xi to the European integration and the EU-China relations.

"It has been touching to notice what great importance President Xi has attached to this visit in Finland's centenary year and to the Sino-Finnish relations at large," the prime minister underlined.

"China has been our largest trading partner in Asia for years, and last year it was our 5th largest trading partner globally," he noted, adding that for Finnish companies China is a very important market and they are happy that this trend continues to increase.

Sipilä suggested that to further develop bilateral collaboration, Finland could act as a test bed in multiple different areas, including self driving cars, 5G and Internet of Things. "We could scale up the solutions jointly in China, he added.

The prime minister also vowed that Finland, during its chairmanship in the Arctic Council, will focus on environmental protection, better connectivity, utilizing meteorology for better monitoring, and improving the education.

"All these offer also good platforms for cooperating more with China," he pledged, adding that Finland as an Arctic nation pays great attention to sustainable development of the arctic.