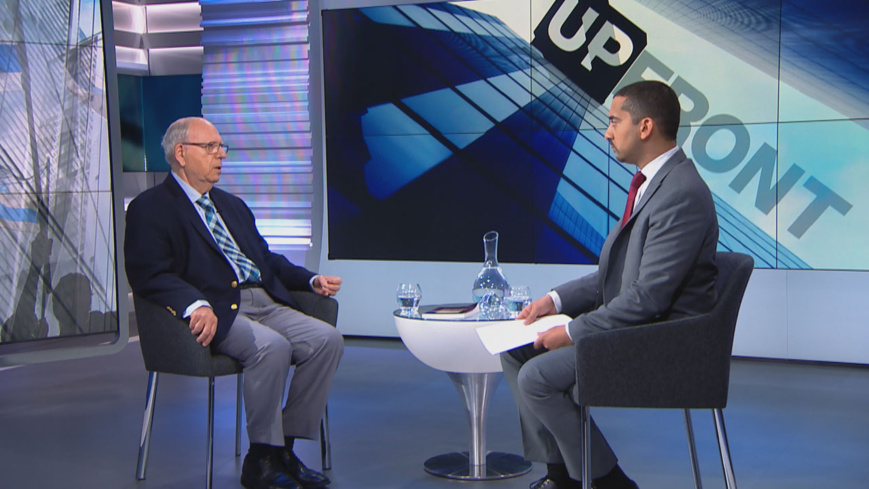 Efraim Halevy, the former head of Mossad, says the appointment of Avigdor Lieberman as Israel's defense minister could mark the beginning of the end for Prime Minister Netanyahu's government.

"I believe the events of the last few days with the impending appointment of Mr. Lieberman heralds the beginning of a countdown of the end of the administration of Mr. Netanyahu," Halevy told host Mehdi Hasan in an interview with Al Jazeera English's current affairs show, UpFront. 

Halevy served under prime ministers Netanyahu, Barak and Sharon and was head of both Israeli intelligence and Israel's national Security Council. 

When asked if he thought the current government was the most right-wing Israel had ever seen, he responded, "It's a fair description."

He labeled Netanyahu a "fear monger" who "uses fear in a way one should not use [it]." 

He admitted there was a connection between Israel's ongoing occupation of the West Bank and the recent spate of Palestinian attacks on Israelis. "Unfortunately, yes... I think one has to admit that since we are in control of the West Bank and since there is no political movement to move the situation... one should expect unfortunately that there will be people who think that they have to rise up and have to fight against it."

He called on the Israeli government to "accept the political reality of Hamas."

"Let me let you into a secret," he said. "If you go now to Israel and you speak to the commanders in the field, and the IDF... every brigade commander who has been commanding a unit opposite the Gaza Strip believes the best situation for Israel at this point is that Hamas should be there rather than anybody else."

He said he would be willing to take on an official role negotiating with Hamas. "If it was something I was asked to do, yes," he said. "I don't think that they would necessarily choose me," he added.

Halevy was also asked to respond to claims that Israel's security forces "mow the lawn" by periodically attacking Gaza, as a substitute for a political solution. "I think it's the truth," he replied.

"I think it is fair to say that there is no two-state solution in the foreseeable future," he said. Asked by Hasan if such a solution would happen on Netanyahu's watch, Halevy replied: "I doubt it." 

This UpFront interview with Efraim Halevy will air this Friday, 27 March 2016, at  21:30 CAT / 19:30 GMT, after which the full interview will be available to watch and embed on YouTube. 

For more information, follow @AJUpFront on Twitter or visit www.aljazeera.com/upfront.